Aluminum entered a bull market in 2016.
The Dow Jones U.S. Aluminum Index – which tracks futures prices of aluminum – has climbed 74% from its January lows.
That's a huge move in such a short time for a vital commodity. But as I'll explain, it's not too late get in on the bull market today…
[ad#Google Adsense 336×280-IA]Back in February, news service Reuters surveyed dozens of commodity analysts from 32 major firms, including JPMorgan, Macquarie, and Oxford Economics.
These professionals make a living by assessing supply and demand in a commodity, and then issuing price forecasts.
Of the half-dozen or so base metals on the list, only aluminum had a negative price forecast.
But the analysts were completely wrong.
Missing the bull market in aluminum cost their employers millions of dollars… and it didn't need to happen. You see, we had signs that a turnaround in aluminum was coming.
It was a shift in the supply/demand dynamics. It's Economics 101.
The aluminum market was smothered in supply for years. This imbalance caused spot prices to fall in half from 2011 to late 2015. To make matters worse, China's stock market crashed in 2015, taking down the price of many base metals – including aluminum – with it. That sort of long-term downtrend causes analysts and investors alike to give up hope.
The London Metal Exchange ("LME") supplies physical materials to settle commodity contracts and sets the spot prices for many base metals. As you can see from the following chart, starting in early 2014, aluminum supplies started to fall…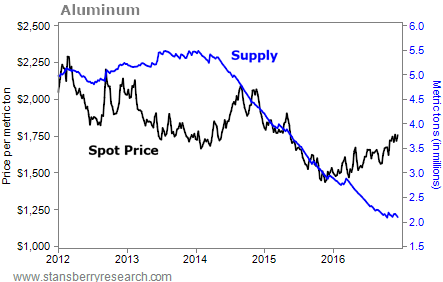 Today, LME warehouses contain about 2.1 million metric tons of aluminum. That's the lowest amount since December 2008. It's down 62% from the peak in 2013.
Eventually, supplies fell enough to stabilize aluminum prices. And in 2015, the bear market in aluminum finally ended. As President-elect Donald Trump's massive infrastructure spending begins to ramp up in the coming months, demand for aluminum should increase.
The best way to take advantage of this trend is through shares of the major producers in the sector. As you would expect, their profit margins have exploded higher (as have their share prices) as aluminum prices have risen. Take a look at how three of the industry's biggest producers have fared since aluminum prices bottomed in January…
Despite these companies' gains this year, it's not too late to get involved. I expect the trend of falling supply and rising demand to continue. This trade looks like it has room to move much higher from here.
Consider buying any of the names above if you haven't already… and enjoy the ride.
Good investing,
Matt Badiali
[ad#stansberry-ps]
Source: Growth Stock Wire