We said we'd believe it when we saw it.
Well, now we've seen it.
On November 30, the Middle-Eastern oil cartel known as the Organization of the Petroleum Exporting Countries (or "OPEC") finally agreed to a modest reduction in its massive oil production. This is critical because oil prices have plummeted since 2014 due to OPEC's unrestrained production.
[ad#Google Adsense 336×280-IA]We knew it would be difficult to get this deal done – and there are still details to finalize – but we're glad that progress has been made.
Here's a quick review of how we got here…
In January 2013, the 12 countries that comprised OPEC were doing great.
Oil prices were around $112 per barrel and the cartel's production was around 30 million barrels per day.
However, higher-cost oil from U.S. shale, Russia, Canada's oil sands, and other sources was starting to eat into OPEC's market share. The world was filling with more and more oil.
As prices began to fall in 2014, OPEC member Saudi Arabia did the unthinkable: It decided to increase the flow of oil. It let OPEC countries produce at will. The idea was that it would make the expensive oil producers in the U.S. and Canada go bankrupt.
Two years down the road, we see the real problem… getting OPEC to close the spigots. OPEC production hit 33.6 million barrels per day this September.
Regular Growth Stock Wire readers know that caused oil prices to plummet to less than $30 per barrel in February before recovering to more than $50 per barrel today…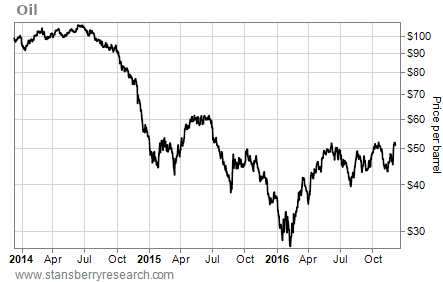 Reducing OPEC's oil production isn't a purely economic problem. Mixed into the business of oil are violent religious differences (particularly between Iran and Saudi Arabia), countries recovering from wars (like Libya and Iraq), and countries dealing with insurgencies (like Iraq and Nigeria). Then there is Venezuela, which is currently spiraling down the drain of a failed socialist regime.
That makes negotiations between these countries fairly difficult. These countries need money, which they all get from selling oil. Then, OPEC's leadership began urging them to reduce the amount of oil they sell… which would bring in less money in the short term.
Let's just say that earlier talks didn't go well.
Saudi Arabia floated the idea of production cuts back in February. At the time, Saudi Arabia and Russia agreed. However, those talks fell apart… just like we predicted.
Then OPEC agreed to talk about cutting production again in April. Iran's representatives didn't even show up to the meeting. It was the same at the September meeting – nothing.
It was like watching a group of spoiled kids split up an uneven number of candies… except with global implications.
This time, the OPEC countries agreed to cut 1.2 million barrels per day of production. That would be a 4% reduction, roughly 1% of the global supply. That's a huge amount of oil to remove from the market, and it should be enough to keep oil prices above $50 per barrel for a short time, at least.
Remember, though, there is still a lot of oil out there. And higher prices will bring some of it back on line. If you own any oil producers, make sure to keep your stop losses tight… because that extra supply will likely push oil prices lower again.
Good investing,
Matt Badiali
[ad#stansberry-ps]
Source: Growth Stock Wire