One area of the metals market has seen gains of 458%, 308%, and 305% so far this year.
Like most investors, though, you've probably been too focused on gold and silver to notice.
But I have good news for you: It's not too late to get in on the action…
[ad#Google Adsense 336×280-IA]Thanks to moves to cut competition and increase demand, the steel industry is in the early stages of a massive bull market today.
In May, the U.S. slammed Chinese steel imports with a 522% tax.
That means for every dollar of steel coming to the U.S. from China, China has to pay an additional $5.22.
In short, the U.S. believes that China artificially controls steel costs, allowing it to produce steel for far less than U.S. costs.
By exporting lots of artificially cheap steel here, China hopes to kill the U.S. steel industry. Hitting China with that massive tariff is one way to prevent that from happening.
As you might expect, the tariff has been great for U.S. steel companies, who had been suffering before that. The nation's largest steelmaker – U.S. Steel (X) – has laid off thousands of workers since 2012. It shut down entire arms of its business. Between cheap Chinese steel imports and the collapse of the U.S. oil industry, U.S. Steel couldn't compete.
The tax on Chinese imports comes at a time when the U.S. needs a major infrastructure overhaul. But there's another part to the story…
You see, President-elect Donald Trump rode to victory last month partly on promises to spend $1 trillion on roads, ports, bridges, and other infrastructure projects. Once he's in office, demand for steel should soar. But not just any steel will do…
In his plans, Trump said he wants to "put American steel made by American workers into the backbone of America's infrastructure."
Kill competition with a tax on Chinese steel? Check.
Spur demand for American steel with a massive stimulus plan? Check.
But optimism surrounding steel was heading higher even before those two things. In October 2015 the World Steel Association predicted steel demand in North America would grow in 2016 and 2017. That was enough good news to start a small rally.
As you can imagine, the tariff and Trump's election victory added tailwinds to an already bullish uptrend… It has been a fantastic year for U.S. Steel. You can see what I mean in the chart below…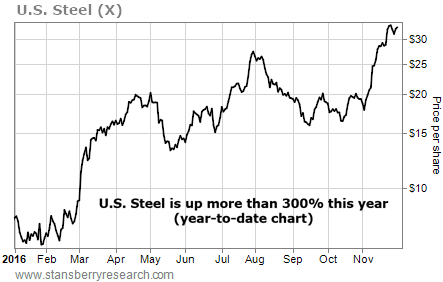 Shares of U.S. Steel have soared this year. In the table below, you can see that other steel stocks – AK Steel (AKS) and Cliffs Natural Resources (CLF) – have done even better…
You might think that you've missed the entire rally… but you'd be wrong.
Steelmakers are coming out of one of the worst bear markets in decades. As you can see in this 10-year chart of U.S. Steel, shares still sit well below normal… even after the big rally…
This is a bull market, and steel should continue to do well going into the Trump presidency. Analysts from investment bank Morgan Stanley believe the infrastructure spending will increase steel consumption by 20% per year over the next five years. If that happens, companies like U.S. Steel, Cliffs Natural Resources, and AK Steel will continue to soar.
This once-left-for-dead sector could continue to boom over the next few years. Don't miss out.
Good investing,
Matt Badiali
[ad#stansberry-ps]
Source: Growth Stock Wire