The market has greeted the unexpected election outcome with one of the biggest post-election rallies of the past century as investors hope the soon to be political configuration will be more pro-growth, and less regulatory minded than the outgoing structure.
Domestically focused small and mid-cap stocks with little overseas exposure have been the primary beneficiaries of the rise in equities over the past few weeks. The Russell 2000 is more than 10% above its lows in November and all three major indices and the Russell made new all-time highs together for the first time since 1999.
[ad#Google Adsense 336×280-IA]It is not as easy to find bargains in the markets as it was a few weeks ago, and some sectors that have rallied probably will see some profit taking at some point in coming weeks.
Although we can speculate, no one knows for sure what policies the new Trump administration will prioritize and what likely legislation will actually get enacted given how far apart the two main parties are on almost every item.
That being said, I am still finding value left in some stocks; particularly those that insiders are still buying.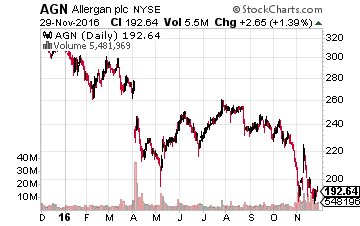 I recently added some shares in Allergan (NYSE: AGN), the Irish drug giant.
Its shareholders have not had much of an enjoyable ride in 2016 as the company became the "poster boy" this election year for "tax inversions" before the Treasury Department successfully derailed its tie up with Pfizer (NYSE: PFE) in April of this year.
The shares are undervalued now that they are down some $100 apiece from early in the year when the merger with Pfizer looked like it would sail through.
The stock has gotten cheap enough to attract renewed attention from insiders. The CEO purchased almost $1 million in new shares on November 21st, ten days after the CFO of the company added nearly $300,000 to her stake in the company. Allergan recently completed the sale of its generic drug business to Teva Pharmaceuticals (NASDAQ: TEVA) for some $40 billion.
The company has stated that it plans to buy back at least $10 billion of their own stock with those proceeds. Allergan will also pay down debt and make several strategic acquisitions with its new-found bounty to bolster growth. As it is, earnings should grow in the low teens in FY2017. The stock is priced at 14 times this year's profits, a decent discount to the overall market even as Allergan is growing faster than most large cap names.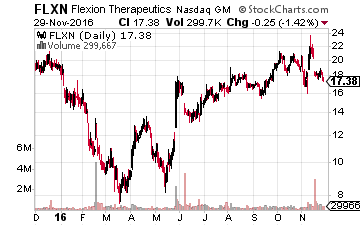 Flexion Therapeutics (NASDAQ: FLXN) is another biopharma name we profiled two weeks ago.
Since then, the CEO has added another $90,000 in new shares and a director has added $600,000 of additional stock to their stake in the company.
The company's primary drug candidate is Zilretta, which is an injectable, non-opioid, sustained-release investigational treatment for patients with moderate to severe osteoarthritis pain.
The company will file the New Drug Application on this compound by the end of 2016. Evidently, insiders are fairly confident that Zilretta will be approved and be successful in the market place. Analysts are also optimistic on the stock with a median price target that is double what the shares are currently trading for in the market.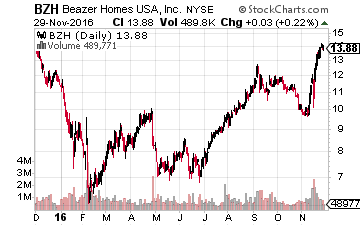 We are also seeing buying in some home builders.
This makes sense given recent monthly reports on new home sales and housing starts show strength that we have not seen in nearly a decade. Beazer Homes (NYSE: BZH) is up some 25% since we highlighted it in early October (Notation 1).
However, it is still cheap on a price to sales and book value basis compared to other large home builders like Toll Brothers (NYSE: TOL) or Lennar (NYSE: LEN).
The stock is also selling for a pittance of its levels before the housing bust. Evidently, insiders still believe the name has more upside.
A director added some $100,000 in the weeks after the election, and this follows more substantial insider buying in August and September of this year. William Lyon Homes (NYSE: WLH) is another home builder that looks attractive and saw insider buying this summer. We touched on this name early this month (Notation 2) as a cheap growth play. It is up nicely since then, but still looks undervalued, especially if the housing market continues to strengthen.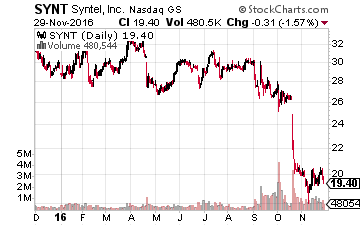 Finally, Syntel (NASDAQ: SYNT), the large Indian based technology provider, has popped up on my radar recently.
The shares have been under pressure since the company paid a one-time, $15 a share special dividend, and missed quarterly earnings estimates.
However, the shares are very cheap on an earnings basis.
In addition, almost 50% of their revenues come from banks and other financial institutions.
The financial sector has rallied hard since the election on the prospects for a more lenient regulatory environment, rising interest rates and more growth opportunities. This should translate into growing technology budgets at these firms over the longer term, which would be good for Syntel. Evidently, some insiders believe the stock has gotten too cheap, as two directors purchased almost $450,000 of new shares last week.
— Brett Jensen
Sponsored Link: Before you go, I have some urgent information that I want to share with you. In a few short weeks, a small drug development company is expected to make a groundbreaking announcement, and it could give you a quick 50% profit.
See, this company has developed a new weapon against diabetes. In clinical trials, it's been shown to lower glucose levels far more than current drugs. This announcement is coming up at the end of December, so you only have a month to act.
You definitely don't want to be on the sidelines on this one…
P.S. Investors are likely to bid up this company ahead of its expected announcement. That's why it's so important to get on board now.
Don't miss out – click here now to learn more.
Source: Investors Alley
Positions: Long AGN, BZH, FLXN, WLH