"Man cannot discover new oceans unless he has the courage to lose sight of the shore." – Andre Gide
It has been a pretty dismal October for biotech investors to date. After rallying more than 15% in July, the main biotech indices stayed within a relatively narrow trading range throughout August and September.
[ad#Google Adsense 336×280-IA]However, sentiment quickly shifted on this high-beta sector of the market in October.
Donald Trump's recent implosion on the campaign trail and his escalating attacks on Republican leadership have increased the odds that the party will lose the House this November.
This would give the Sanders/Warren wing of the Democratic party additional oversight and legislative power over a variety of industries.
The pharma and biotech concerns within the market have not been warmed by this prospect, to say the least, and are down more than 10% from recent highs.
I have been getting a lot of questions from my followers on SeekingAlpha as well as Real Money Pro on what smaller names seem to be getting oversold here as investors have once again gone "risk off" on this part of the market. Here are four names selling for under $10 that have attractive risk to reward profiles. The market also has overlooked some favorable company specific developments as traders flee biotech, at least for the time being.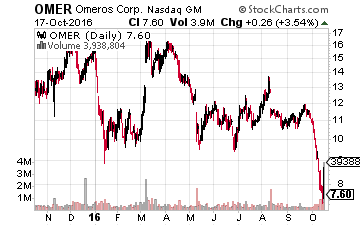 Let's start with Omeros (NASDAQ: OMER) whose stock has gone from around $12.00 a share to $7.50 a share during the downturn in biotech during October so far.
The company raised $40 million to continue to roll out its ocular compound, Omidra, and continued pipeline development.
Investors who buy in now will get a more attractive entry price on shares as the August offering was priced at $11.50.
In addition, the company just reported encouraging Phase II results in a trial for a compound called OMS721 targeting four different types of complement-associated kidney diseases. Myriad analyst firms cover this small cap concern and the median price target on Omeros by analysts is north of $30.00 a share.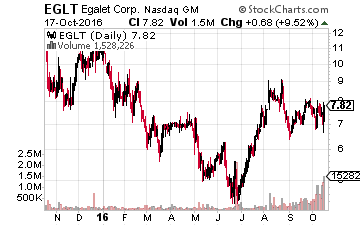 The stock of Egalet (NASDAQ: EGLT) has been volatile recently as the company had a disappointment last week after the FDA moved back the PDUFA date for its abuse deterrent pain management compound, ARYMO ER, unexpectedly.
However, the agency only indicated that they needed more time as they have done with other abuse-deterrent opioid NDAs, and confirmed that no additional scientific information or data is needed for Egalet's application.
Given that the Ad Comm panel recommends ARYMO ER for approval by an overwhelming 18 to 1 vote in early August, it is hard to see this compound not being approved by the end of the year. Cantor Fitzerald was the latest analyst firm to reiterate a Buy rating on Egalet. Their price target on this attractive biopharma concern is $21.00 a share.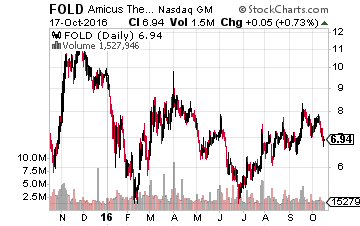 Next up is Amicus Therapeutics (NASDAQ: FOLD), another attractive small biotech concern selling right around $7.00 a share after dropping some 15% in recent weeks.
The median price by the analysts that follow the company is double the current price of the stock.
The company has several potentially positive catalysts in the near future.
It should file a New Drug Application (NDA) for its treatment for Fabry Disease by the end of the year. In addition, a Phase II reading for its compound to treat another rare disorder, Pompe Disease, should also be released by the end of 2016. Finally, Phase III top line data for yet another drug candidate to treat Epidermolysis Bullosa will be released sometime in the first half of 2017.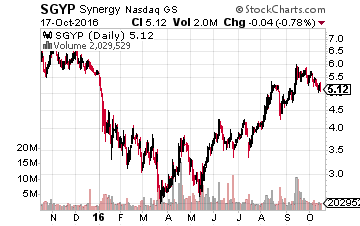 Finally, longtime favorite, Synergy Pharmaceuticals (NASDAQ: SGYP) has faded more than 10% in recent trading and currently goes for just over $5.00 a share.
However, this biopharma is getting closer and closer to the "finish" line.
Its primary drug candidate "plecanatide" has a PDUFA date with the FDA on January 29th for the treatment of Chronic Idiopathic Constipation.
The company released long-term safety data for this indication Monday, which was more than positive. This is a significant market which a compound called Linzess dominates and is on the way to being a $1 billion dollar a year drug. In trials, plecanatide showed itself to be slightly faster acting than Linzess. More importantly, it causes less side effects, especially incidence of diarrhea. It should rapidly garner market share if approved.
Phase III trial results should also be out for this compound in the treatment of IBS-C by the end of the year. Approval for that indication could then happen late in the first half of 2017.
I have been adding incrementally to each of these names on the recent decline in the sector. I think it is important to be patient and disciplined here. While I believe all these names are undervalued on a long-term basis, the current uncertainty in this part of the market could last into the upcoming election and there might even be better opportunities in coming weeks.
— Bret Jensen
[ad#ia-bret]
Source: Investors Alley