Roberta Tower took a cross-country trip this summer.
Roberta is retired and has spent the past several months on the road. As she told NPR…
Because the gasoline prices have been so low… I've been able to go a lot farther and see a lot more than I initially thought I would be able to.
Roberta isn't alone. With prices at the pump at 12-year lows over Labor Day, more Americans have traded in "staycations" for extended road trips around the country.
[ad#Google Adsense 336×280-IA]Because of that, the U.S. hit a record for gasoline consumption this summer.
On August 12, the average gasoline consumption over the previous four-week period reached 9.8 million barrels per day.
That's the most gas sold in the U.S. in that length of time since the U.S. Energy Information Administration began keeping track in 1991.
While consumption peaked last month, we're still using about as much gasoline daily as we were during the previous highs in 2007. This is great news for the refining sector…
U.S. oil refiners soared during the "shale revolution" from 2010 to 2015, but the sector has struggled over the past six months.
Massive oil supplies pushed U.S. prices down to levels well below those in the rest of the world. U.S. refiners could buy the oil cheaply, barely refine it, and then sell it abroad for a hefty profit.
That setup changed when the U.S. government relaxed the law on oil exports in January. Companies could legally export crude oil from the U.S. to refineries outside of the country for the first time since the 1970s.
Because of that, U.S. oil prices came back into balance with the rest of the world. U.S. refiners' profits sank… and so did their share prices. This three-year chart of refining giant Valero Energy (VLO) shows what I mean…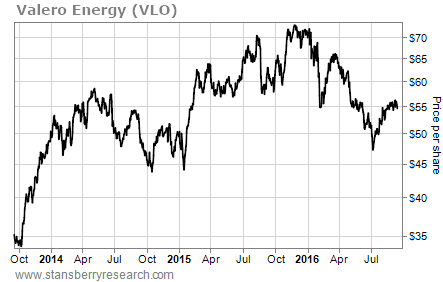 Valero shares fell 35% from their high in late 2015 to their recent low in July. But the stock has rallied since then as gas consumption peaked. Shares are up 22% from their low.
And the trend isn't just limited to Valero. Shares of refiner Tesoro (TSO) are up 17% from their July low, too.
As folks took advantage of cheap gas and hit the road for their summer vacations, we saw a massive increase in demand… which has boosted refiners' profits.
While cheap prices and near-record consumption will continue to lift shares of Valero and Tesoro, oil majors like ExxonMobil (XOM) and Chevron (CVX) will do well, too.
In my Stansberry Resource Report newsletter, we own a "basket" of producers. We're hoping to catch the uptrend in the early stages. But we're keeping our stop losses tight in case we're wrong. I suggest you do the same today.
Good investing,
Matt Badiali
[ad#stansberry-ps]
Source: Growth Stock Wire