Oil prices moved higher to start the week… and publicly traded oil companies continue to trade near historical lows.
[ad#Google Adsense 336×280-IA]It's tempting for investors. But as I warned last week, that's a bad idea right now.
When oil prices eventually rally, the gains in oil stocks will be outstanding. I'll be the first one to let you know when that happens. But it won't be today…
Some oil stocks are like land mines. Invest in the wrong one and you could get wiped out if it goes bankrupt.
Despite this uncertainty, some investors are ignoring my advice.
They're jumping back in to oil-service stocks, as you can see in the following chart of the Market Vectors Oil Services Fund (OIH) below…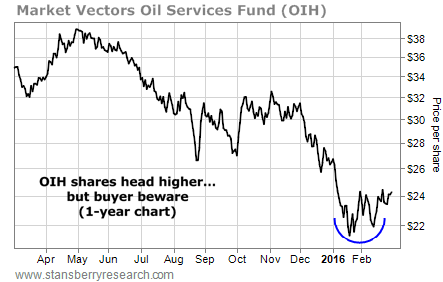 OIH shares hit an intraday low of $20.46 on January 20. [Tuesday], they closed around $24.50 – a 20% move in about six weeks.
That increase in investor interest led me to dig into the oil-service stocks, just like I did with the oil explorers last week.
Service companies help explorers drill and complete oil and gas wells. The big problem for those companies is that the number of rigs drilling has fallen from 1,925 in November 2014 to just 654 today… a 66% drop.
It's the fewest operating rigs since 1999. And the rig count hasn't bottomed yet.
When the rig count is falling, there are fewer rigs for the service companies to work on. Revenues and profits are falling, so these companies are bumping up against the same problems as explorers. They need cash, so they are either selling shares, raising debt, or doing both.
Here are three service companies doing what we don't want as investors…
It's clear that these companies are heading in the wrong direction. There are tons of companies in the sector that have loaded up on debt and will struggle to pay it down as long as oil prices remain low.
For now, we're sitting on the sidelines of the oil-service sector. There's too much risk – and many of these companies will end up bankrupt – to invest right now. But when the trend eventually reverses and oil prices head higher, we'll be able to buy the surviving companies in the sector for a huge discount to the value of their assets. At the right time, we could see triple-digit gains.
Good investing,
Matt Badiali
[ad#stansberry-ps]
Source: Growth Stock Wire