We're getting closer and closer…
Some types of oil are so cheap, refiners are approaching a point where they will actually charge producers to take it from them.
According to Bloomberg, Flint Hills Resources, which collects and refines crude oil in the U.S., is offering to pay producers $1.50 per barrel to process North Dakota Sour crude oil (down from $47.60 a barrel two years ago). North Dakota Sour is a lower-quality form of crude oil that is practically worthless today due to the current glut of oil supply.
[ad#Google Adsense 336×280-IA]There isn't a whole lot of North Dakota Sour on the market.
But another low-quality crude – bitumen – is incredibly cheap, too.
And there's a whole lot more of it…
Bitumen production peaked in 2014 at 2.3 million barrels per day.
That's more than half of Canada's total oil production.
It peaked near $80 per barrel in June 2014.
Today, bitumen trades for a little more than $8 per barrel. That's a 90% decline in about 19 months. You can see that tremendous fall in the following chart…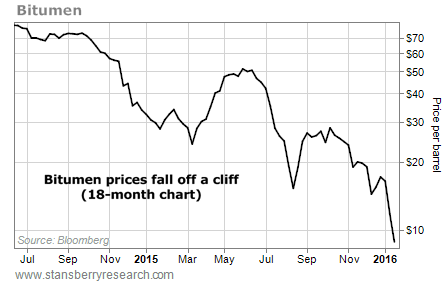 At today's prices, bitumen is practically worthless.
The latest Canadian oil production data available from the U.S. Energy Information Administration – from June 2015 – doesn't show a material decline in Canada's production… yet.
But with bitumen prices so low, companies will be forced to slow production to cut their losses. And while we can't know when oil prices will head higher, lower production would be a good sign that we are near the bottom in oil prices.
Every news outlet is reporting that Iran's production is coming on line… China is using less oil than we thought… and European demand is falling. But all of that is already priced into oil prices. The first half of 2016 should be the point when supply falls the most.
Production in the U.S. and Canada will fall as producers stop drilling and shut down wells that are losing money. That will eat up the oil glut. Then, the market will tighten and oil prices will begin to rise again. I don't expect $100-per-barrel oil anytime soon. But if West Texas Intermediate crude (the domestic benchmark) eventually climbs back to $60 per barrel, that would be a 100% gain from today's prices.
That's why we're putting together our wish list of oil companies right now. We're looking for companies with low debt, plenty of cash in the bank, and great assets. We are casting the net wide to find the best service companies, pipelines, seismic companies, and explorers.
We know that when the market turns, these companies will make us tons of money. And while it isn't time to buy yet… it will be soon.
Good investing,
Matt Badiali
[ad#stansberry-ps]
Source: Growth Stock Wire