Chances are, you're scared right now…
You're afraid the markets are going to fall.
You think the recent fall in stocks is just the beginning… and that all of the bad things lurking out there are finally about to surface.
I get it.
We have some scary things happening right now in the financial markets.
But you need to understand one thing: Fear is good…
You know the old saying… "Be fearful when others are greedy, and be greedy when others are fearful." (Warren Buffett said that… and Buffett is the greatest investor of all time.)
[ad#Google Adsense 336×280-IA]Markets peak when investors are greedy – when nobody thinks you can lose money (like in real estate in 2006).
And markets bottom out when fear rules – when everyone is scared.
So my question to you today is simple: Is everyone greedy right now, or is everyone fearful?
The answer is obvious to me… Investors are more fearful than greedy today. And that means stocks can still move higher in 2016.
Let me explain…
We have NOT reached the peak in greed yet. For example, it does NOT feel like it felt in real estate back in 2006, during the last peak in greed.
Back then, no one thought you could lose money in housing. And regular folks were quitting their jobs to get into real estate. It all worked wonderfully for a few years… but then the floor fell out.
The same cycles happen in the stock market. The last two major stock market peaks were in 2000 and 1968, the same years consumer sentiment peaked.
Consumer sentiment has also bottomed five times since 1968. Each of those bottoms occurred when we were in a recession. Take a look: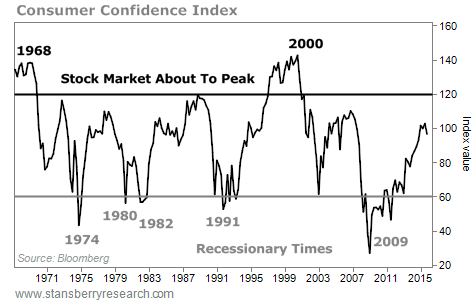 You might think I talk too much about sentiment… that sentiment doesn't matter that much. This chart shows you that sentiment is important – and that consumer sentiment bottoms out in recessions and peaks at tops in the stock market.
The message from this chart is clear to me: We are definitely not in a recession today. And we are definitely not at a major stock market peak.
Yes, consumer sentiment is getting up there… But it is not time to start worrying.
The simple story is that investors are more fearful than greedy today. Therefore, we have likely not reached the peak yet.
This doesn't mean that stocks can't fall from here. But I'm happy to bet on history. And history says stocks could move higher in 2016.
Good investing,
Steve
[ad#stansberry-ps]
Source: Daily Wealth