It's almost time to buy into the broad stock market…
December is typically a strong month for stock prices. According to the Stock Trader's Almanac, going back to 1930, the S&P 500 has been up 72.9% of the time, with an average gain of 1.4%.
[ad#Google Adsense 336×280-IA]But that seasonal strength usually doesn't kick in until the second half of the month. The first half tends to be weak.
Many traders who have been around for more than a few Decembers know the best strategy tends to involve buying into oversold conditions during the first half of the month in anticipation of solid gains in the second half.
That strategy worked out well for us last year when the S&P 500 sold off 5% in early December. Then it came roaring back and gained 6% by Christmas.
I expect we'll get a similar opportunity this year. But we need to see some oversold conditions develop first…
Tuesday's broad stock market decline helped push a few technical indicators close to oversold levels. But it's going to take another day or two of declining stock prices to get them there.
For example, look at this chart of the NYSE McClellan Oscillator (NYMO)…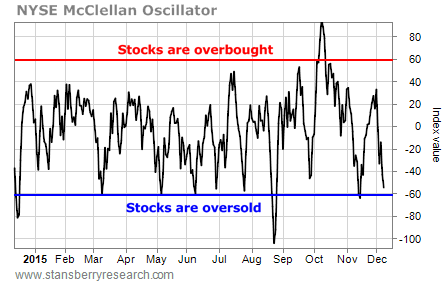 The NYMO is a momentum-based indicator that helps determine overbought and oversold conditions on the New York Stock Exchange. Readings of more than 60 indicate severe overbought conditions, and often precede large declines in the markets. Readings below -60 display extreme oversold conditions, and usually lead to strong bounces in stock prices.
Take a look at how the S&P 500 performed after each of the previous oversold readings this year…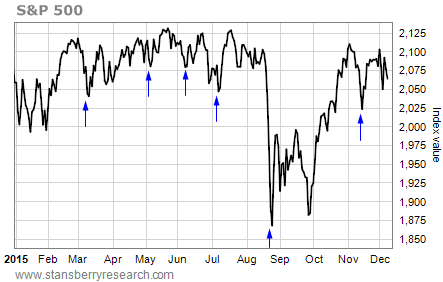 In every case, extreme oversold readings on the NYMO marked at least a short-term bottom in the stock market, and led to an immediate rally.
The NYMO closed Tuesday at -54. So we still need a bit more downside action before we have an extreme oversold setup. I expect we'll get that in the next day or two.
Remember, next week is the December Federal Open Market Committee (FOMC) meeting – with the announcement on interest rates due Wednesday afternoon. Stocks tend to rally the day before and the day of the announcement. But they tend to fall a few days before.
We're in the "few days before" time frame this week. A decline for the next few days would fit in with the typical early-December action, and with the typical pre-FOMC meeting action.
With any luck, we'll get oversold readings on a few technical indicators like the NYMO. And that will give traders a chance to buy into the market in anticipation of a Christmastime rally.
Best regards and good trading,
Jeff Clark
[ad#stansberry-ps]
Source: Growth Stock Wire