Bargain hunters are getting interested in copper again…
In 2011, the price of copper peaked at just more than $4.50 per pound.
[ad#Google Adsense 336×280-IA]Today, the metal is trading for just about $2. That's a 55% drop in the past four years.
But buying right now would be a mistake…
Copper broke down below an important support level last week.
It could bounce back up and retest the breakdown level.
That would give traders a quick chance to profit. But that would be like trying to pick a penny out of the bottom of a urinal.
The reward just isn't worth the risk.
You see, the longer-term trend is lower. Copper will be cheaper months from now than where it is today.
Take a look at this chart…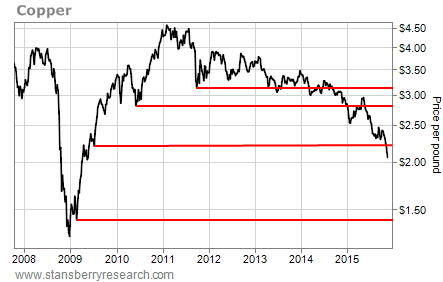 Copper is in freefall.
The next significant support level is all the way down around $1.40 per pound. That's 30% below Friday's closing price.
We can't rule out a short-term bounce – similar to what we saw earlier this year. But any short-term gains are likely to be followed by sharply lower prices.
The best the copper bulls can hope for is a period of consolidation – where the price of copper chops back and forth in a tight trading range for several weeks. The worst case is a move all the way down to the support line of the 2009 low.
Neither case offers a compelling reason to buy copper today. Traders should avoid the temptation to buy. You'll likely have a better opportunity in a few more months.
Best regards and good trading,
Jeff Clark
[ad#stansberry-ps]
Source: Growth Stock Wire