November has been brutal so far for silver.
[ad#Google Adsense 336×280-IA]As of last Friday, the price of silver had closed lower for 12 days in a row.
I can't recall any other time in my 30-plus-year career when silver has put together such a long string of losses.
The price of the metal is down around 8% for the month. But there is some good news…
With conditions stretched so far to the downside, silver is poised for a bounce…
Take a look at this 60-minute chart of the iShares Silver Trust Fund (SLV)…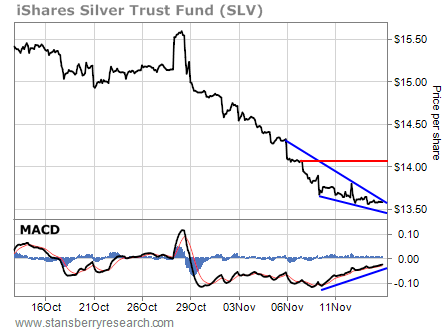 SLV is tracing out a bullish falling-wedge pattern (the blue lines on the chart). This is a bottoming pattern that often occurs before a short-term rally.
Notice also that as the price of silver fell over the past few days, the moving average convergence divergence (MACD) momentum indicator rallied. This "positive divergence" is an early sign of an impending bounce.
So with SLV approaching the apex of the wedge, and with such strong divergence on the MACD indicator, we're likely to see a solid bounce in the price of silver this week.
Aggressive traders can buy SLV here at around $13.60 and look to sell it on a bounce back up toward resistance at about $14.05. That would generate a solid, 3.3% profit in just a few days.
But don't stick around too long in the trade. The daily chart of SLV tells a different story. Take a look…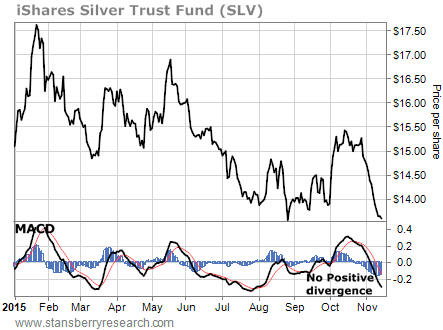 The daily chart DOES NOT show a bottoming pattern. It's more of a cliff dive. And there's no positive divergence yet on the MACD indicator.
So any bounce from here is going to be short term only. SLV will have to come back down and test Friday's low – or make a slightly lower low – in order to create a bottoming pattern on the chart and set up positive divergence on the MACD indicator.
After falling for 12 straight days, silver is oversold enough to justify a short-term bounce. But we don't have the conditions in place to create a longer-term bottom yet.
That may take a few more weeks.
Best regards and good trading,
Jeff Clark
Dr. Ron Paul: "Crisis bigger than 2008 is coming" [sponsor] 22-year Congressman explains a huge problem few Americans know about-and how you should prepare. Learn more here…
Source: Growth Stock Wire