Considering the big surprise we got in the jobs numbers last week, all the talk it has generated about a rate hike in December, and the possibility of more realistic inflation returning, I thought it would be a good time to talk about inflation, the number one threat to all our retirements.
Here's a glimpse of what it cost to live back in 1961, compliments of Market Watch, when we, the boomers, were kids.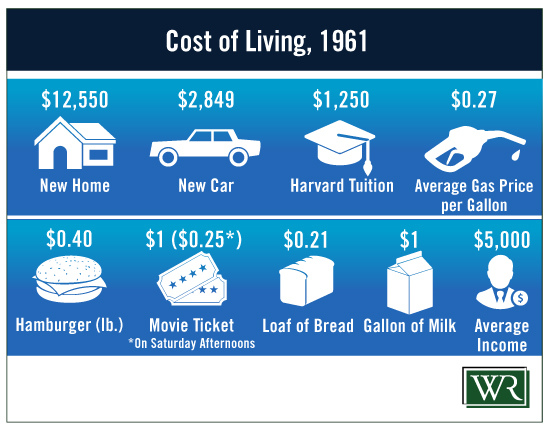 I know 1961 was a long time ago – 54 years to be exact. And none of us will live 54 more years. Well, not unless you're a 20- or 30-something. If you are, those numbers should get your attention.
But how about just since 1990? Based on the reading I do about life expectancy, I would venture a guess 50% of us will make it another 25 years to 2040.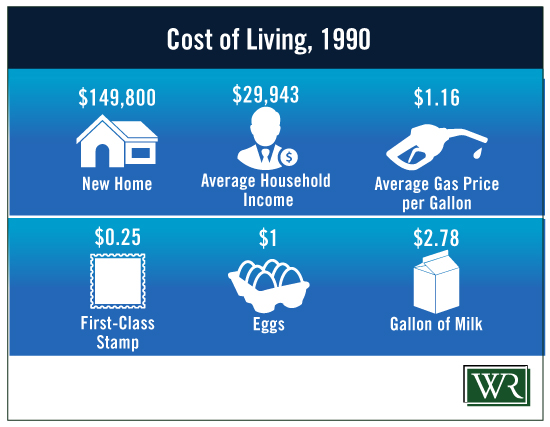 A new house today is around $364,000. That's more than double what it cost in 1990… and almost 30 times what it cost in 1961!
A lifestyle that cost $60,000 in 2000 now costs $85,000.
[ad#Google Adsense 336×280-IA]That's a 40% jump in just 15 years and, remember: for the last seven, we have had virtually no inflation.
If your retirement plan doesn't include an inflation kicker, get ready for big cuts in your lifestyle. Real inflation will return, it will cut into your ability to pay your bills and, if your money isn't growing, it will crush you long-term.
Yes: That's a guarantee.
The best way to wake up broke in your '80s? Keep your money too safe.
Grow it or lose it. It is that simple.
Good investing,
Steve
"Trading Volatility: How to Earn 16% Returns on Every Trade" [sponsor]
Volatility is back – and while most investors are wondering what to do… Andy Crowder will show you his most effective, short-term strategies for capitalizing on increased volatility…This Thursday, November 19th, Andy Crowder is hosting a free webinar where he will reveal how his personal trading strategy can be the best defense against rising volatility…while producing solid gains of 16% in as little as 7 days. Plus, you'll receive FOUR free action-trades you can execute immediately! Click here to RSVP and secure your seat – before this event fills up!
Source: Wealthy Retirement