China just cut interest rates… again. This is good news for stock traders…
[ad#Google Adsense 336×280-IA]You see, Chinese stocks have performed extremely well over the last 20 years when China has cut interest rates.
Based on history, we could see 31% gains over the next year.
Let me explain…
The chart below highlights China's three main rate-cutting cycles since 1996.
As you can see, each rate-cutting cycle led to higher stock prices. Take a look: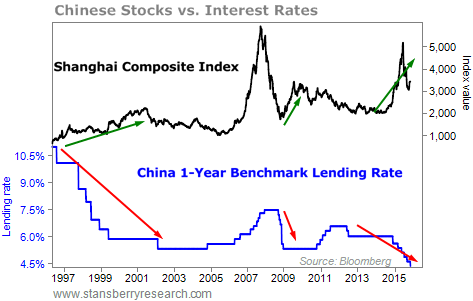 The message from history is clear… Chinese stocks tend to move higher as China stays in a rate-cutting cycle. But even more specifically, Chinese stocks tend to rally after each individual rate cut.
China has cut interest rates 19 individual times since 1996. Take a look at the average returns on stocks (as measured by the Shanghai Composite Index) after each of the 19 rate cuts since 1996:
In short, Chinese stocks consistently outperform after a cut in interest rates. And that outperformance roughly doubles the normal "buy-and-hold" returns for the next one, three, six, and 12 months.
An 18.6% return is the average gain just six months after a Chinese rate cut. And rate cuts led to 31% average gains over the next year. (Yes, these results include the massive correction in Chinese stocks this year.)
We haven't bought back in yet after the bust in Chinese stocks this year. But we're certainly warming up to the idea.
History shows we could be on the verge of a strong rally thanks to China's recent rate cut. The gains could be 31% over the next 12 months, based on history.
Again, we haven't bought back in yet, but chances are great that we will very soon…
Good investing,
Steve
[ad#stansberry-ps]
Source: Daily Wealth