I warned you… did you listen?
In [October], I told you to sell shares of Royal Dutch Shell (RDS-A) if you owned them.
[ad#Google Adsense 336×280-IA]The oil giant had just announced it was shutting down a $7 billion project off the coast of Alaska.
This is just one example of the many poor management decisions Shell's leadership has made over the past few years.
Now, Shell's earnings are paying the price…Last week, Shell reported its third quarter earnings… or losses in this case.
The company officially booked a $6.1 billion loss, compared with a $5.3 billion profit over this period last year.
The only positive thing this quarter was its "downstream" (refining and sales) segment. That made a $2.6 billion profit.
Shell also announced it is writing off $8.2 billion in "one-off charges." In short, this means it basically wasted more than $8 billion of investment capital on its Arctic exploration off Alaska and its Carmon Creek project in the Canadian oil sands.
Both of these projects were in areas where exploring and drilling for oil is difficult. The oil produced in these areas would have been extremely expensive. Neither project had any hope of profitability without high oil prices.
And as regular readers know, oil has been in decline since peaking in June 2014. The price of European benchmark Brent crude oil is down more than 56% in that timeframe.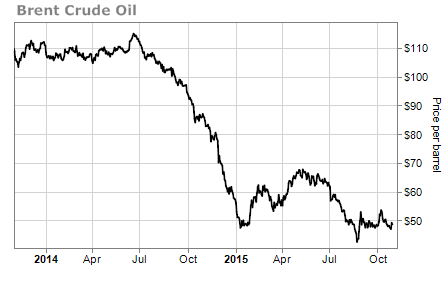 Reporting a loss and writing off more than $8 billion aren't Shell's only problems. As I told you last month, Shell – and the other big three oil companies – have racked up debt over the past few years to pay their bills. The debt of ExxonMobil (XOM), Shell, Chevron (CVX), and BP (BP) rose from $75 billion in 2008 to $155 billion at the end of 2014. As of June 2015, these companies owed $176 billion.
Eventually, these companies are going to have to pay this money back. And with them already reducing capital expenditures (a broad measure of how much energy companies spend to find oil and gas) and trimming operating costs, that money will have to come from somewhere else… like the funds currently used to pay dividends.
Shell borrowed another $5 billion in long-term debt this quarter, with more than half of that being used to pay its $0.47 per share quarterly dividend – $2.3 billion total.
That's actually less cash than Shell has paid in the past because it has a program that allows it to pay some dividends as new shares instead of cash.
With all of the company's problems, it's insane for shareholders to take more shares instead of cash. But some are doing it… Shell's share count is up by 80 million since the end of March 2015.
The program also isn't a shareholder-friendly move, because it creates more shares… diluting the holdings of existing shareholders. But in the short term it saves the company money, which is why it is doing it. This program will save the company from paying more than $1.1 billion in dividends this quarter.
This is just another scheme to maintain the fiction that Shell is a healthy company. It isn't.
It's still likely only a matter of time before the dividend gets cut. The idea that the company can continue to issue shares and borrow money to pay its bills is crazy. It's like not having enough money to cover your electric bill… so you put it on a credit card.
To make matters worse, Shell still plans to go through with its $70 billion acquisition of London-listed liquefied natural gas expert BG Group (BG) as a bet on higher natural gas prices. This will only increase Shell's debt and further put a strain on its bottom line – especially if natural gas prices remain low in the long term. If that happens, we could see another big write off in Shell's future.
Shares of Shell are already down more than 30% since their July 2014 peak. And they're likely headed lower.
If you haven't already sold your shares, do it now… before things get even worse.
Good investing,
Matt Badiali
[ad#stansberry-ps]
Source: Growth Stock Wire