Commodities prices could be on the verge of a major bottom – right now – based on one proven, profitable commodities indicator.
I realize it's hard to imagine commodities prices going up today.
They have been in a multiyear bear market… the world is drowning in oil… and China and the rest of the world have been struggling to grow, to say the least.
[ad#Google Adsense 336×280-IA]This has caused the benchmark CRB Commodity Index to fall 47% since peaking in 2011.
I get that. However, I also know what the numbers mean to me. And right now, one profitable indicator is telling us that the downside could be over.
Let me explain…
Commodities have been crashing since 2011. But surprisingly, investor sentiment toward commodities didn't hit extreme levels until late last year.
Since then, investors have hated commodities, according to my good friend Jason Goepfert, whose proprietary "Optix" sentiment indicator on SentimenTrader.com tracks the CRB Commodity Index.
As longtime readers know, sentiment is a contrarian indicator. When public sentiment reaches an extreme, the opposite usually occurs (at some point).
Today, sentiment is extremely negative for commodities… After a four-year bear market, investors expect the decline to continue. But that's not usually how it works…
Last December, Jason's Optix reading fell below 30, which is a reading of extreme negativity. Over the last 20 years, we've seen the Optix indicator hit this low three other times. Take a look…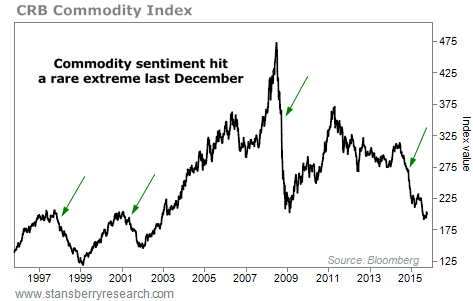 As you can see, these initial negative readings aren't immediate "buy" signals for commodities. Sentiment tends to hit an extreme and stay there for a few months before commodities ultimately bottom. The table below shows the details…
Commodities have bottomed as quickly as five months after their first negative sentiment extreme. But they've also taken up to 14 months to reach bottom.
After they've bottomed, we've seen some incredible gains in relatively short periods of time. Take a look:
We can't know exactly how long it'll take before commodities bottom this time. But we're already 11 months past the first negative extreme from Jason's Optix indicator.
The CRB Commodity Index is up 5% from August's lows. So the bottom could already be in. And even if we see new lows from here, history says the bottom will likely occur soon.
I know it sounds a bit crazy to think that the bottom could finally be in for commodities… but we have what we like to see as buyers. Investors have given up on them. We have a small uptrend now. And with history as our guide, commodities could be bottoming… right now.
Good investing,
Steve
[ad#stansberry-ps]
Source: Daily Wealth