My subscribers made 995% profits on Seabridge Gold (SA) a few years ago – as the stock went from less than $3 to more than $30 a share.
I never thought I'd see the gold-exploration company dip back into the $3's again. But it happened three months ago… So I got on an airplane (and a helicopter) and went to the Alaska-Canada border get an in-person update.
[ad#Google Adsense 336×280-IA]On August 1, I interviewed Seabridge Gold CEO Rudi Fronk at his KSM Project –
the world's largest undeveloped copper and gold deposit
.
We talked about Seabridge's history, the state of the gold market, and why Seabridge is such a fantastic opportunity.
Seabridge has gone from around $4 during the interview in August to around $6.60 today – a 60%-plus gain.
I saw Rudi again last week in Las Vegas at our Stansberry Conference Series event.
He gave a fantastic presentation.
He did such a great job, I wanted to hear more from him. So I asked if I could interview him more in depth next week on a podcast. (I'll be reviving my Inside True Wealth podcasts, starting next week with this interview with Rudi.)
I also want to share with you the short video interview I did with him live and on-site back in August. You can find it here.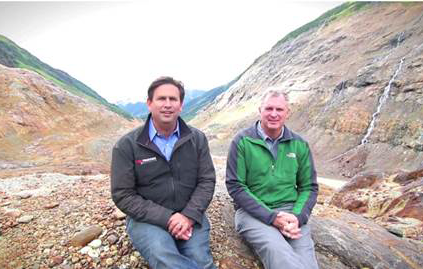 ​While the stock has gone up a lot since that interview, there's still plenty of upside potential in Seabridge Gold when the price of gold goes up.
But for today, check out the video interview I did on-site at Seabridge Gold's KSM Project in August. And for a more in-depth talk about the gold markets and Seabridge, please listen to my podcast with Rudi on Inside True Wealth next week.
I can't wait to hear what he has to say…
Good investing,
Steve
[ad#stansberry-ps]
Source: Daily Wealth