In September, my True Wealth Systems computers did something rare… They flashed "sell" signals on nearly every system-based investment we track.
What did I do? I listened!
We sold the majority of our open positions in True Wealth Systems.
[ad#Google Adsense 336×280-IA]And it might surprise you to hear me say this with nearly everything in "sell" mode, but I don't think the great bull market is over yet.
There are too many big-picture reasons to believe stocks could still go much higher from here.
In fact, we've been through this all before, back in 2011.
Let me explain…
The more I dig, and the more numbers I dissect, the more it seems that we could be in the middle of a small to intermediate correction – on the way to much higher stock prices.
Today we're seeing the same pattern we saw during the 2011 correction.
Take a look at the chart below. It shows the S&P 500 during 2011…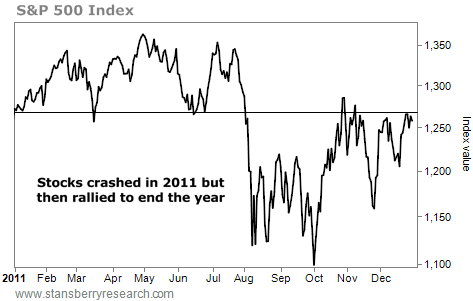 Stocks crashed in late July and early August. They then entered a volatile period for the next two months. They tested August's bottom before finally making a new low in early October.
Then the game was on. Stocks began a new uptrend and didn't look back for four years…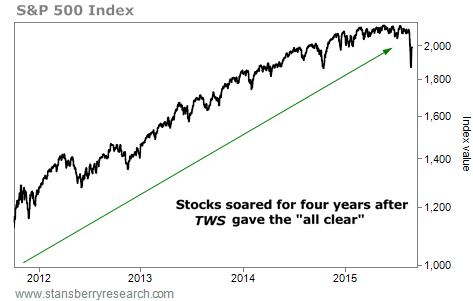 Buying just about anything during this period would have led to hefty profits.
Now, take a look at this chart of the S&P 500 in 2015…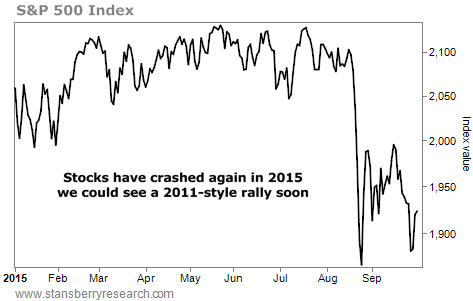 The similarities between today and 2011 are striking.
The S&P 500 crashed in late August. It has tested those lows after bouncing violently since then.
If this is "2011 all over again," we'll likely see more volatility and a new low in stocks before a new uptrend kicks in.
Of course, we can't know if this is how things will play out. But history is our guide here – and it says higher prices are entirely possible.
Again, I'm happy to follow my stop losses and sell when I need to. But I believe the opportunity in stocks is for higher – not lower – prices from here.
Good investing,
Steve
[ad#stansberry-ps]
Source: Daily Wealth