You cannot ride a bear.
Rodeo cowboys score points by staying on the bull as long as possible. Investors profit by doing the same.
But a bear is a completely different animal. No cowboy is crazy enough to saddle up and try to ride a grizzly. Yet investors try it all the time – and they get mauled…
[ad#Google Adsense 336×280-IA]Bear markets are not for riding.
They're for trading.
That means you wait for severely oversold conditions before you buy anything.
Then you sell when conditions become less oversold.
And you wait for severely overbought conditions before selling stocks short.
Then you cover those trades when the market turns neutral.
It's not a buy-and-hold environment anymore. It's a scalping environment – play only the best setups and take profits quickly.
This week has been a terrific practice session for trading a bear market. Stocks started the week in oversold territory and drifted even further into the abyss during Monday's selloff. But if you paid close attention, you would have noticed that several technical indicators were approaching "extreme oversold" territory.
For example, the McClellan Oscillators for the New York Stock Exchange (NYSE) and Nasdaq closed below their lower Bollinger Bands on Monday. Bollinger Bands indicate the most likely trading range for a stock or an index. Whenever a chart moves outside of its Bollinger Bands, it indicates an extreme condition.
Take a look…​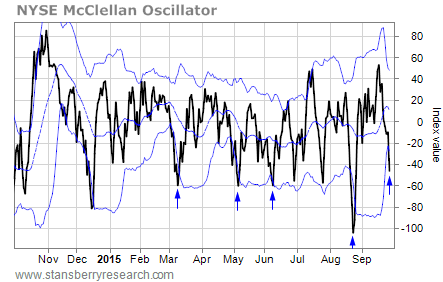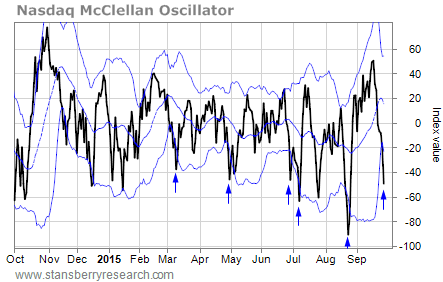 The blue arrows on the charts point to times when the McClellan Oscillators have closed below their lower Bollinger Bands in the past year. In every case, the stock market was within one or two days of a strong oversold bounce.
So with the McClellan Oscillators in extremely oversold territory, this was the first clue that we were getting close to a bear-market rally.
Sure enough, stocks turned higher on Tuesday… and yesterday we got one of the strongest rallies of 2015. The S&P 500 traded up as much as 30 points during the day.
Traders who tried to "ride the bear" and held short positions into oversold conditions got hurt yesterday. They likely gave back most, if not all, of their short-sale profits.
Traders who understand how bear markets work would have used Monday's oversold conditions as a chance to take profits on their short sales and then to position themselves for a bear-market bounce.
If we're entering a bear market, then we're going to see many more weeks like this one. So we'll have plenty of opportunities to profit. Just remember – we don't ride the bear. We scalp it instead.
Best regards and good trading,
Jeff Clark
[ad#stansberry-ps]
Source: Growth Stock Wire