Coffee prices are on the verge of soaring…
Today, investors hate commodities… and coffee is no exception.
The last time we saw a setup like this, coffee prices rocketed nearly 72% higher in just four months. And over the past decade, these opportunities would have led to 25% average gains in just more than four months.
[ad#Google Adsense 336×280-IA]Coffee isn't a "buy" just yet. But a fantastic opportunity is setting up right now.
Let me explain…
Futures traders are currently betting against coffee at one of the highest paces we've ever seen. We can see this with the Commitment of Traders (COT) report for coffee.
As longtime readers know, the COT is a weekly report that shows the real-money bets of futures traders. Most of the time, this report doesn't tell us much.
But when futures traders all agree, it can be a powerful contrarian indicator.
In the case of coffee, when futures traders are all betting on lower prices, the opposite tends to happen… Coffee prices tend to soar.
Today, the COT report shows that futures traders are uniformly negative on coffee. They're betting on lower prices with the strongest conviction that we've seen in years. Take a look…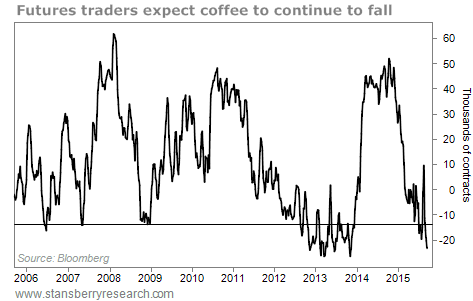 A reading less than -14,000 has been a powerful negative reading over the past decade. And that's where we are today.
Importantly, coffee prices tend to rally after the COT report hits extreme negativity and then rebounds to a reading of 0 or higher. If you had bought each time that happened over the previous decade, you'd have made 25% average gains in just more than four months. Take a look…
This setup has happened five times over the past decade. And all but one of these trades were winners. The largest gain was nearly 72% in four months last year.
The COT report for coffee is currently hitting negative extremes. So we'll need to see it rebound before we consider buying. And luckily, we don't have to be futures traders to bet on coffee prices…
We can easily bet on higher prices with the iPath Bloomberg Coffee Fund (NYSE: JO). This fund tracks the price of coffee… and it's a simple way to make this trade.
Once again, we need to see the COT indicate a rebound above 0 before we buy. But once that happens, 25% gains in around four months are possible. And you can easily make the trade through shares of JO. Keep this idea on your radar and be prepared to buy soon.
Good investing,
Brett Eversole
[ad#stansberry-ps]
Source: Daily Wealth