The market finally started to show some stability towards the end of last week with sessions Thursday and Friday feeling like normal trading days for 2015; the S&P 500 traded in a tight trading range with none of the wild swings we saw during the last couple weeks.
Monday also felt like a normal trading day even as stocks gave back most of Friday's gains. It was nice to see some normalcy return to equites as over the past 6-8 weeks, the market has seen a substantial uptick in volatility with huge intraday moves occurring way too frequently.
[ad#Google Adsense 336×280-IA]The recent turmoil in equities has hastened the first "correction" for the market since 2011.
This has triggered a warning from Nobel Laureate economist Robert Shiller saying recent investor surveys are showing more fear that the market is substantially overvalued than at any time since the dotcom bubble of 2000.
The high beta biotech sector has started to recover in recent weeks after almost dropping 20% from previous highs and thus avoiding an official "bear" market.
If the Federal Reserve decides to punt on raising interest rates for the first time since 2006 on Thursday, this should be supportive of the "risk on" areas of the market including biotech.
Most of the new money I am allocating into the biotech sector of the market anytime the overall market declines continues to be marked for blue chip large cap growth stocks within the industry such as Amgen (NASDAQ: AMGN) and Gilead Sciences (NASDAQ: GILD).
However, if the central bank stands pat on rates I will get a bit more adventuresome in the space. Embracing a more optimistic tone, here are a couple of promising small cap biotech concerns worth consideration by aggressive growth investors within this lucrative but volatile part of the market. Each stock goes for south of $5.00 a share.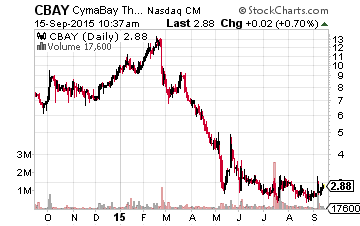 Let's start with Cymabay Therapeutics (NASDAQ: CBAY), a small biotech concern with a market capitalization of approximately $65 million and a stock price that is currently just under $3.00 a share.
I picked up a small stake early in the summer after the stock tumbled over 75% after a disappointing Phase IIb trial for its main drug candidate arhalofenate.
I purchased a small stake and may add to it at current levels as I believe investors are overreacting to the failed trial.
Arhalofenate is aimed at the roughly two million people in the United States who suffer from periodic bouts with gout and are underserved by current treatment regimens. The drug has shown some success in lowering the uric acid build up that causes this condition in other phase II tests giving it an advantage over competing drugs should it make it to commercialization.
The company is setting up a couple of Phase III tests for arhalofenate in combination with another compound that has shown more success in Phase II trials. I would not be surprised if Cymabay is successful in entering a partnership to help develop this compound and help defray development costs. After recently raising equity, the company has some $40 million in cash on hand which should fund trials for at least another year.
In addition, the company has another early stage compound "MBX-8025" which has been designated as an Orphan Drug for the treatment of hyperlipoproteinemia types I or V as well as for homozygous familial hypercholesterolemia, a rare and life-threatening, genetic disease.
Analysts are starting to notice Cymabay with Piper Jaffray initiating the shares as a "Buy" with a $4.00 a share price target on the stock over the summer. H.C. Wainwright is even more bullish as a five star rated analyst there initiated the shares as a Buy with a whopping $12.00 a share price on September 8th. Finally, there has been a string of insider purchases of stock in recent months.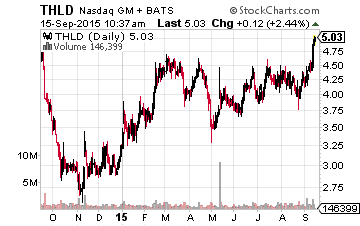 Our second stock is Threshold Pharmaceuticals (NASDAQ: THLD), a slightly larger concern than Cymabay with a market capitalization of approximately $350 million and whose stock price is hovering just under $5.00 a share after showing some strength recently.
Threshold is focused on the treatment of cancer through therapeutic agents targeting tumor hypoxia, a state of low oxygen-concentration commonly found in cancerous tumors.
This condition can cause resistance to traditional treatment methods like chemotherapy and radiation. The molecule, originally called TH-302 but now known as evofosfamide, is a prodrug only activated at very low levels of oxygen.
Upon arriving at the hypoxic conditions of a tumor, evofosfamide releases an agent that forms DNA crosslinks, rendering tumor cells unable to replicate their DNA and essentially killing them off. The agent also interrupts DNA transcription, preventing cells from producing necessary proteins. The very specific activation requirements for this treatment mean that it may be less likely to produce broad toxicity seen with other treatments like chemo.
The company expects to announce Phase III results on evofosfamide for the treatment of soft tissue sarcoma as well as pancreatic cancer by the end of 2015. Obviously positive outcomes in either or both trials would potentially cause the stock to soar. Analysts appear to think this is a likely possibility lately as Piper Jaffray and Cantor Fitzgerald reiterated their "Buy" ratings in August. These analyst firms have price targets of $12.00 and $14.00 a share on Threshold, respectfully.
The company is developing this drug in collaboration with Germany's Merck KgaA which is paying 70% of the development costs for this compound so funding is not a concern. In addition, if successful, Threshold would be eligible for almost $450 million in potential milestone payments as well as royalties on commercialized product revenues.
Happy Hunting.
— Bret Jensen
[ad#ia-bret]
Source: Investors Alley
Position: Long CBAY & THLD