Nobody has been paying attention… but after falling an astonishing 25% since last summer, one hated currency is quietly – and finally – starting an uptrend…
Longtime readers know this is EXACTLY the setup we look for in a trade…
The ideal investment setup is an opportunity that is:
1) cheap
2) hated, and
3) in the start of an uptrend.
The Australian dollar ticks all those boxes today.
[ad#Google Adsense 336×280-IA]Like I said, no one is paying attention to the Australian dollar.
But the currency is cheap after falling 25% from its peak last July.
Investors are also as negative as we've seen in years.
Take a look at the chart below.
It shows the real-money bets of futures traders, measured by the Commitment of Traders ("COT") reports.
A low number shows that futures traders expect the losses to continue in the Australian dollar…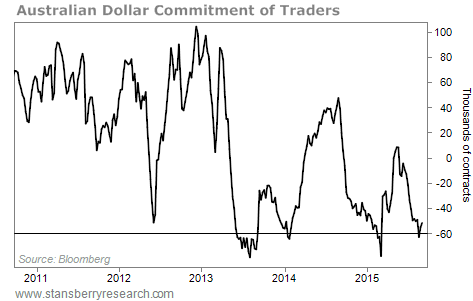 Futures traders are near the most negative we've seen in years. This is a good sign. It shows that investors HATE the Australian dollar. And this level of sentiment is what breeds new bull markets.
Even better, now is a great time to put on a low-risk, high-reward trade…
The Aussie dollar bottomed at $0.69 on September 4th. It's trading at $0.71 as I write. That's not a screaming uptrend yet… But it means you can put on a trade that has a $0.02 downside risk, but $0.10 of upside potential.
A $0.10 rise would only move the Australian dollar back to May levels. We could easily see more gains over the next few years if this trade works out. But a quick, $0.10 rise could be the "easy money" in this opportunity.
The only downside here is that there's no easy way to trade with leverage in your regular retirement account. But you can still make the trade easily without leverage.
The simplest way to do it is with the Guggenheim CurrencyShares Australian Dollar Trust (NYSE: FXA). This is a simple fund that tracks the value of the Australian dollar.
FXA is trading for around $71 as I write. Cut your losses if FXA falls below its recent low of around $69. That gives us 3% downside risk. But if the Australian dollar turns around, we could easily see FXA move to $81 – upside potential of 15%.
This is a great opportunity… We have a cheap and hated currency that's now starting a new uptrend. And you can make the trade with just 3% downside risk and 14% upside potential.
It's exactly the kind of trade I look for. And you can take advantage of it with shares of FXA today. Check it out.
Good investing,
Steve
[ad#stansberry-ps]
Source: Daily Wealth