It's a scary time to buy stocks…
Markets around the world are breaking down. But as we've written recently (here and here), this volatility is likely overdone. And it's creating real opportunities.
Most investors are focused on the U.S. today. But one of the biggest opportunities isn't at home… It's in Europe.
Let me explain…
[ad#Google Adsense 336×280-IA]Yes, stocks have been volatile, and we have hit some stop losses… But looking at the bigger picture, European stocks are a fantastic opportunity – an even better one than U.S. stocks.
U.S. stocks have gone up for six straight years.
And they're only down 4% in 2015 after the recent fall.
European stocks haven't gone up nearly as much…
Europe's major blue-chip index – the Euro STOXX 50 Index – was up in just three of the last six years.
And it's down again this year. Take a look…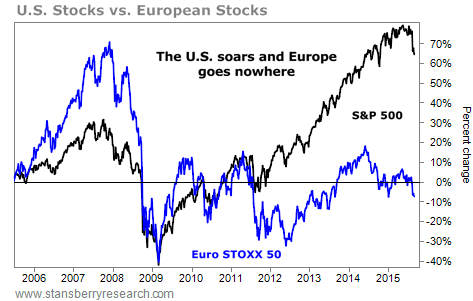 The S&P 500 is up around 65% over the past decade (not including dividends). The Euro STOXX 50 Index is down 8% over the decade (not including dividends and in U.S. dollar terms).
This incredible divergence in performance has made Europe's stock market cheap. Take a look…
European stocks are more than 40% cheaper than U.S. stocks when you look at some major value metrics, including price-to-book, price-to-sales, and dividend yield.
Looking back over 30 years of historical data, whenever European stocks were 40%-plus cheaper than U.S. stocks, European stocks outperformed U.S. stocks over the next year, three years, and five years.
In short, we want to own European stocks when the uptrend returns. The eurozone economy is the world's largest… and yet its stock market is an incredible deal relative to U.S. stocks.
When I look at Europe today, I see the U.S. a few years ago…
Here in the U.S., unemployment is down, stocks are up, and the economy is slowly ticking higher. Because of that, we're on the verge of higher interest rates from the Federal Reserve. But not in Europe…
Earlier this year, European Central Bank President Mario Draghi put Europe's own quantitative easing (QE) program into place. Europe's central bank is just now starting the money-printing process in hopes of igniting the area's economy.
Of course, this will lead to increases in asset prices, like we saw happen in the U.S.
Europe's stock and property markets will likely soar in response to this program. And higher interest rates won't appear in Europe for years.
European stocks should be a fantastic opportunity, particularly when the uptrend returns.
Good investing,
Steve
[ad#stansberry-ps]
Source: Daily Wealth