"What's your top idea right now, Steve? What are you doing with your own money?"
The answer is simple: U.S. real estate.
Right now, I have a greater percentage of my net worth invested in the U.S. residential property market than in any other asset class – by far.
[ad#Google Adsense 336×280-IA]The opportunity is irresistible.
But the problem has been getting a diversified portfolio of homes without borrowing a lot of money.
Fortunately, I have the solution…
Today, I'll show you how to buy houses for 25% below market value. And you won't need to borrow any money to do it.
Even better, you won't need to have any expertise in renovating houses or being a landlord… That's taken care of for you.
You'll get paid rent (after expenses)… You'll have no closing costs… You won't need much money – you can get involved for a few hundred dollars… And you can sell in one day if you need to.
You're not taking on much risk to do this either, as I'll show. (It's WAY less risky than just buying and renting houses by yourself.)
It's a great deal… and the perfect way to invest in the housing market.
Let's get started…
Right now is a crazy-perfect moment to own a rental home…
House prices had their greatest bust since the Great Depression. They became very cheap. Now they're recovering. This is the sweet spot. Also, mortgage rates are around 4%… which is near record lows.
When you combine today's prices with low mortgage rates, homes are still incredibly affordable.
Meanwhile, after seven years of "under-building" – there's not enough supply of homes to meet the demand. Take a look: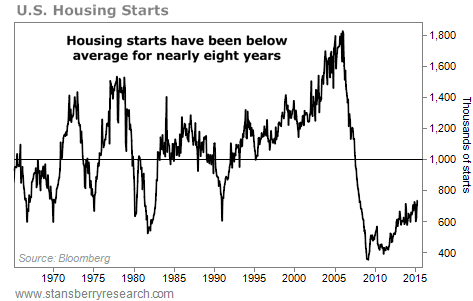 As you can easily see, we've under-built for eight years. At this point, basic economics is kicking in – there's not enough housing supply to meet demand. This gives house prices an incredible tailwind today.
I have the perfect way for you to play it…
Silver Bay Realty Trust (NYSE: SBY) was born in the depths of the financial crisis. In 2012, it was the first business created to buy thousands of single-family homes at the bottom of the market, rent them out, and pay out all the net rent in dividends to shareholders (you and me).
Silver Bay was the first single-family real estate investment trust (REIT). (A single-family REIT is a collection of homes that trades on the stock market. You can buy and sell REITs anytime – they trade exactly like stocks. The special feature of a REIT is that it basically operates tax-free, as long as it pays out 90% of its rent after expenses as dividends to people who own the stock. As the stock owner, you end up paying taxes on the rent through income taxes on your dividends, but the important part is that taxes are only paid once.)
At the bottom of the market, Silver Bay went into the most bombed-out major markets – it went all over Florida, and to cities like Phoenix and Las Vegas – and it started buying homes. Today, it owns more than 9,200 homes.
Silver Bay bought the homes cheaply. And it is way more conservative with debt than the typical real estate investor.
Today, Silver Bay estimates its net asset value per share is $21.32. (This is sort of a fair-market value of the homes it holds… It's basically a liquidation value of everything it owns.)
As I write, the stock is below $16 per share. That puts it at a 25% discount to liquidation value. (Keep in mind, if you buy something for 75 cents on the dollar, it has to rise by 25 cents – or 33% – to get back up to that dollar. That's good!)
Silver Bay currently pays a dividend of $0.12 a quarter – which means $0.48 in a year. That is a 3% dividend yield today. I expect that dividend will go up as rents go up.
You can make money from Silver Bay in a lot of ways… You'll make money as the discount to net asset value narrows. You should make money as house prices go up, causing the stock price to go up. You'll make money from rent, in the form of dividends that must be paid out to you by law.
This is a great opportunity today…
You can make money from U.S. homes without having any expertise in renovating or being a landlord. You'll get paid rent (after expenses)… You'll have no closing costs… And you can sell any day you want.
I am a strong believer in the U.S. property market. My net worth is not tied up in U.S. stocks these days – it's in the U.S. housing market. Shares of Silver Bay – at a 25% discount to the houses it owns – might just be a better deal than what I'm doing with my own money…
Check out Silver Bay Realty Trust today…
Good investing,
Steve
[ad#stansberry-ps]
Source: Daily Wealth