Crashing oil prices, crashing commodity prices, and a super-strong U.S. dollar – these three have been the trifecta of pain for the Canadian dollar in recent years.
All three of these together have pushed the Canadian dollar to an 11-year low.
In today's essay, I'll show you why the Canadian dollar could bottom out soon and start a solid rally…
[ad#Google Adsense 336×280-IA]Right now, "real money" traders have a massive bet AGAINST the Canadian dollar.
We can see by looking at the Commitment of Traders (COT) report – which tracks the "real money" bets of futures traders.
Today, the COT shows traders are uniformly betting against the Canadian dollar.
This is a great contrarian sign…
It shows that everyone who wants to sell the Canadian dollar has already sold. There's nobody left to sell.
You see, "real money" traders have only had a significantly larger bet than today's one time in the past – in early 2007. The Canadian dollar absolutely soared right after that – from $0.85 to $1.08 in about eight months. That's a 27% move – a huge move in a currency!
Today, sentiment on the Canadian dollar is at the worst level in history (according to Jason Goepfert of SentimenTrader.com, whose data go back a few decades). That also tells me the bottom should be near…
So what's going on… and when could the rally in the Canadian dollar start?
The Canadian dollar is known as a "commodity currency." Its currency tends to rise and fall with commodity prices. The problem is, everywhere you look, commodities are crashing… The Bloomberg Commodity Index, which currently tracks futures prices for 20 commodities, is down 62% since peaking in July 2008.
Take a look at the chart below. It shows the Canadian dollar versus commodity prices over the past 15 years…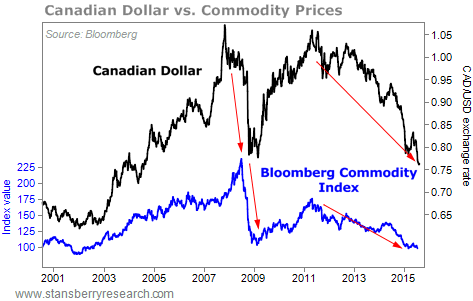 You can see that the Canadian dollar crashed the last two times commodity prices peaked and began a bear market. It fell 22% from July 2008 to March 2009. And since peaking in mid-2011, the Canadian dollar is down 27%… a huge decline for any major currency.
Canada's currency can bottom out here, simply because there's nobody left to sell… However, the legitimate bottom will happen when commodity prices finally bottom.
Since commodity prices have continued lower, the Canadian dollar has continued lower. In short, we don't have an uptrend in the Canadian dollar – yet. So I'm not buying today… but the Canadian dollar will be a fantastic opportunity when commodities rebound.
The best way to take advantage of it now is to get yourself up to beautiful Vancouver – my favorite city in the world – this month. I was just there for more than a week and I can confirm that – except for real estate – prices in U.S. dollar terms were CHEAP!
So take advantage by visiting Canada while its currency is at a record low… Then buy the Canadian dollar when the uptrend finally appears…
Good investing,
Steve
[ad#stansberry-ps]
Source: Daily Wealth