Get ready for another big coffee rally…
In January 2014, I called coffee the "trade of the year." After falling 67% in three years, there wasn't a lot of downside risk left, and there was plenty of upside potential. Traders who took my advice to buy made 70% gains when we sold in March.
[ad#Google Adsense 336×280-IA]In June, coffee looked set to rally again. Prices had pulled back and the chart looked poised for a breakout.
So I recommended another coffee trade. In October, we locked in 24% profits.
It looked like we were going to get yet another rally in coffee this past April.
But instead of surging higher, the price of coffee has slowly drifted lower over the past few months in a drowsy effort to find some sort of a bottom.
On Monday, though, the price of coffee exploded 5% higher. That's a massive move. It added to those gains on Tuesday. And by the look of the chart, there are even bigger gains ahead…
Take a look at this chart of coffee plotted along with its nine-day exponential moving average (EMA) and its 50-day moving average (DMA)…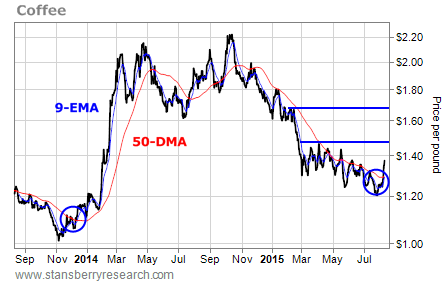 Last year's big rally in coffee started when the nine-day EMA crossed above the 50-DMA. This "bullish cross" often marks the start of at least a short-term rally. In this case, coffee rallied about 85% in just the next three months.
In April, the nine-day EMA looked ready, once again, to cross above the 50-DMA. But it didn't happen. The nine-day EMA backed away. And the price of coffee drifted lower.
Now, after several months of chopping around in a low level consolidation, the price of coffee is breaking out. And the chart is set up for another bullish cross of the nine-day EMA over the 50-DMA.
This is the start of another big rally for coffee.
The chart has resistance overhead at around $1.45 per pound. If coffee can get above that level, then the next target is up around $1.70.
The easiest way to trade coffee is with the iPath Bloomberg Coffee Subindex Total Return ETN (JO). This exchange-traded note uses the futures market to track the performance of the price of coffee.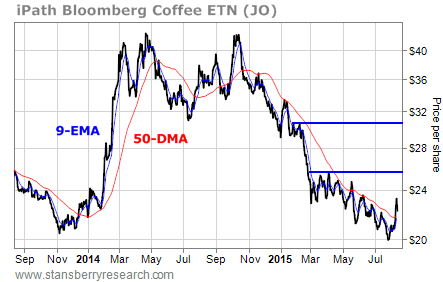 JO broke above both moving average lines on Monday. Its next resistance level is up around $26 per share. But if the coffee rally really gets going, we could see JO trading above the $30 level within the next few months. That's a 30% gain from Tuesday's closing price.
The stock was a little extended after the big rally on Monday and Tuesday. Yesterday's pullback gave JO a chance to retest its moving average lines as support. This gives traders an excellent chance to buy. The intermediate-term trend is higher.
Best regards and good trading,
Jeff Clark
[ad#stansberry-ps]
Source: Growth Stock Wire