As I write, "large speculators" have given up on gold…
This is such an extreme, we have seen it only two other times in the past eight years.
[ad#Google Adsense 336×280-IA]Each time it has happened, gold shot up a quick $200 an ounce…
Those two times both happened in 2013. And gold shot up from around $1,200 per ounce to around $1,400 per ounce within three months of seeing this extreme each time.
In late 2007 and late 2009, we had extremes that were less extreme than today's… But gold still soared by $200 per ounce within four months in EACH of those instances as well.
You can see it on the chart below…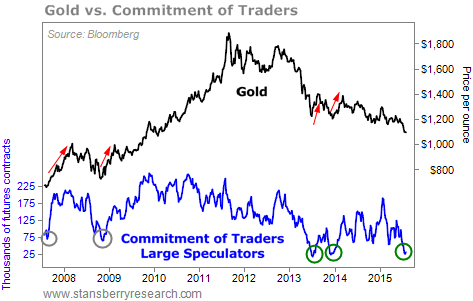 As you can see, gold typically bottoms when these extreme lows are hit – and it's usually good for a three-to-four-month run higher.
So what are these extremes?
They are the commitments of REAL DOLLARS by "large speculators" in gold futures contracts. This data comes from the Commitment of Traders report – a weekly report by the Commodity Futures Trading Commission (CFTC), which is the government entity that regulates commodities trading. (If you want to know exactly what the data shows, it's non-commercial traders' net positions in gold futures.)
I love to see what's happening with REAL DOLLARS in gold futures contracts… The real dollars cut to the chase.
And when the commitments of large speculators in gold futures reach an extreme low – like today – gold is typically near a bottom.
Sentiment on gold has only been worse than today once in the past eight years, according to my friend Jason Goepfert of www.SentimenTrader.com. That was at the midpoint of 2013 – and gold shot from $1,200 to $1,400 quickly after that sentiment extreme.
In short, gold traders are beyond scared. They're throwing in the towel on the gold trade. They are bailing out on their positions, having to cut their losses.
This has to bring us close to the point where there's nobody left to sell… That's how gold can rally by $200 in the next three months.
The timing with sentiment indicators is a bit tricky. So today might not be THE day… But we should be close.
These extremes are more pieces of the puzzle that shows gold should be near a short-term bottom – and could shoot up as much as $200 in three to four months – starting soon…
Good investing,
Steve
[ad#stansberry-ps]
Source: Daily Wealth