Giant pharmaceutical companies like Pfizer (NYSE: PFE) and Merck (NYSE: MRK) are favorites of income-seekers, as they have historically paid high dividend yields.
Is the next Pfizer or Merck out there somewhere?
[ad#Google Adsense 336×280-IA]Amgen (Nasdaq: AMGN) is a biotech company whose $132 billion market cap is larger than that of many large blue-chip pharmas, including Bristol-Myers Squibb (NYSE: BMY), Abbott Laboratories (NYSE: ABT) and AstraZeneca (NYSE: AZN), just to mention a few.
Amgen pays a 1.79% dividend yield, but is on its way to becoming a Perpetual Dividend Raiser (a stock that raises its dividend annually) as it has increased the dividend every year since it began paying one in 2011.
But before a stock can become a darling of income investors, the dividend needs to be safe. Income investors want reliability as much as they want high yields.
Let's dig into the Safety Net and see just how safe Amgen's dividend is.
Short but Sweet
As I mentioned, the company has been paying dividends since only 2011, a short track record. However, it has raised the dividend every year. The quarterly dividend started out at $0.28. Today it is $0.79 for a compound annual growth rate of 23%.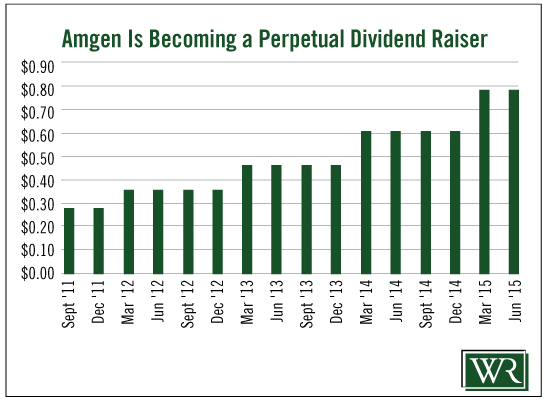 That's as good a short-term dividend track record as you'll see. And there should be a lot more where that came from.
Low Payout Ratio
Over the past 12 months, the company has generated $8.7 billion in free cash flow. It paid out $2 billion in dividends for a payout ratio of just 23%. I like to see payout ratios at 75% or below, so Amgen could double the dividend and still be well within my comfort zone.
In fact, the only thing keeping Amgen from being perfect in terms of dividend safety is that, over the next few years, free cash flow is projected to slip as several of its big sellers – Neupogen, Epogen and Neulasta – face generic competition, which could start as early as next month.
As a result, free cash flow is forecast to decline to $7.1 billion in 2015 and $8.3 billion in 2016.
Even with the lower numbers, there is a very comfortable margin for the dividend to be paid and raised.
I'm not at all concerned about the lower cash flow, as Amgen is an innovative company with a deep pipeline that should contribute to cash flow in the near future.
The company should have absolutely no problem paying its dividend and raising it in February, when it historically hikes the payout.
The only reason the stock can't receive my highest rating is because of the penalty for lower cash flow this year and next. Even so, there is little chance of a dividend cut anytime soon.
Dividend Safety Rating: B
Hoping your longs go up and your shorts go down,
Marc
[ad#IPM-article]
Source: Wealthy Retirement