It's one of the most hated sectors in the market…
Junior mining stocks have been clobbered over the past four years. The "Dow Jones Industrials" of junior miners – the S&P/TSX Venture Index – is down more than 75% from its 2011 high. Many junior miners are now penny stocks, with share prices of less than $0.10.
In short, nobody wants to own these miners today. But that's exactly why I'm interested…
[ad#Google Adsense 336×280-IA]Regular Growth Stock Wire readers are familiar with the natural resource market's cyclicality.
You see, natural resources – along with companies in the sector – go through huge cycles of boom and bust.
The key to making big gains in natural resources is to buy assets that have been in "bust" mode.
Once a natural resource is left for dead, things often get better and prices eventually boom… along with the share prices of companies in the sector.
My colleague Steve Sjuggerud calls this concept "bad to less bad" trading.
Take 2009, for example. Back then, junior miners were coming off one of the worst bear markets in their history. At the time, the world was recovering from the 2008 credit crisis. The S&P/TSX Venture Index fell nearly 80% during the tough times. Since people were reeling from the crisis, no one wanted anything to do with natural resources.
But then, things got less bad… and the S&P/TSX Venture Index rocketed 256% higher over the next couple of years. Many junior miners rose hundreds of percent.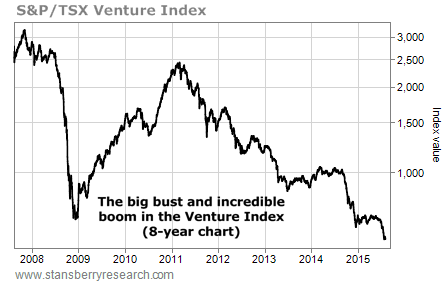 Right now, we're seeing a similar setup. With many natural resource prices down double digits over the past few years, nobody wants anything to do with the sector… and assets are cheap.
I saw this first-hand last week during a trip to Alaska…
While I was there, I visited a project that had more than $10 million invested in it during the last natural resource boom from 2007 to 2011.
It is a rich, high-grade gold deposit. Some samples held nearly two ounces of gold per ton. To put that in perspective, most of the ore mined in Nevada, the heart of U.S. gold mining, holds about 0.03 ounces per ton. So this deposit is more than sixty times as rich as those mines.
A few years ago, junior mining company Full Metal Minerals planned to drill into a mountain to reach the gold in this project. The company made it within the length of a football field of the ore… but then gold prices plunged and the company ran out of money.
In 2014, a tiny junior miner bought the rights to the project for just $150,000.
I also met with another junior miner on my trip. It owns 50% of a zinc project. The rocks are more than 8% zinc. That's an enormous amount. The project holds nearly 2.6 billion pounds of the metal.
The company has around $20 million in cash, but the market value is just more than $8 million. So it trades for much less than its cash in the bank, AND it owns 1.3 billion total pounds of zinc.
There are opportunities like this throughout the junior mining market today. For example, there are 1,106 junior miners listed on the S&P/TSX Venture Index. More than 10% of those companies (130 in total) trade for less than their cash in the bank.
We won't see values like this forever. Eventually, things will get less bad, and natural resource prices will boom… along with junior miners.
We're not there yet – but we're likely getting close. That's why I'm spending time evaluating companies in the sector right now. When this market takes off, I want to be ready.
Good investing,
Matt Badiali
[ad#stansberry-ps]
Source: Growth Stock Wire