China, Greece, flat earnings growth, a collapse in energy and commodities, and a strong dollar are all major headwinds in the market right now.
These "watch items" are never an exact science, but some have shown up near the top of previous market cycles in 2000 and 2007.
Meanwhile, insider selling continues to swamp insider purchases with major share sales at highfliers like Netflix recently.
[ad#Google Adsense 336×280-IA]However, I am not abandoning the market just yet.
With everyone and his brother seeming eager to cash out of the market at these levels, I am watching the companies and stocks where insiders are actually moving in the opposite direction and upping their stakes at their firms.
There are still attractive investment opportunities in the market right now, and the companies I am recommending today have all had serious insider buying occurring recently.
In my opinion, this is a bullish sign for these companies and shows that their insiders, some of the people who know the company best, see their stocks as good values right now.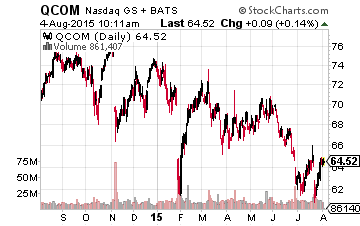 A director over at chip giant Qualcomm (NASDAQ: QCOM) just purchased almost $350,000 in new shares last week.
It was the first insider buying at this San Diego based tech titan in at least a year and a half.
Qualcomm's shares have been under pressure throughout 2015 and recent quarterly results were disappointing.
However, the company has recently become a target of renowned activist hedge fund Jana Partners which has amassed a huge stake of some $2 billion and is pushing for change. This activism seems to already be having its desired effect as the company recently announced significant layoffs in a move to cut almost $1.5 billion out of its annual operating costs.
Qualcomm may also buckle and split the company in two separate business. This is a stance Jana is advocating and which should unlock significant shareholder value. The stock goes for under 12 times forward earnings once the large cash holdings on its balance sheet is accounted for and the shares also yield north of three percent.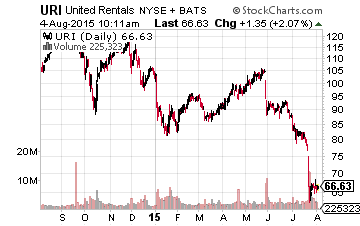 Leasing giant United Rentals (NYSE: URI) has had an even worse go of it in 2015 as the shares have been cut by a third so far.
The triggers have been disappointing forward guidance and some analyst downgrades.
However, the sell-off seems to have left the stock significantly undervalued at this point in time.
The company is by far the market share leader in a very fragmented industry and has years of consolidation growth ahead of it. The stock goes for just over eight times forward earnings in a market going for double that multiple. Insiders seem to agree as a couple of bought some $800,000 of stock in the past couple of months.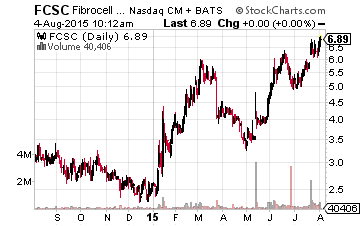 Finally, we have a small biotech concern named Fibrocell Sciences (NASDAQ: FCSC).
This small cap stock has more than doubled since I first profiled it on these pages in the fourth quarter of 2014.
This has not stopped beneficial owner and famed biotech billionaire Randal Kirk from continuing to up his stake in this promising company with a market capitalization of just under $300 million.
Mr. Kirk is also the Chairman and CEO of Intrexon (NYSE: XON) which is a synthetic biology technology company which has tripled over the past year and now sports a market capitalization north of $7 billion. He also has founded numerous successful biotech firms and sits on the boards of many others including Halozyme Therapeutics (NASDAQ: HALO), which has been a massive winner since being profiled in these pages in January.
Mr. Kirk picked up over a third of the company's recent $15 million secondary offering and now holds almost 40% of the company. Given his extensive network across the space and Fibrocell's promising pipeline; I would not be surprised if the company is acquired in the foreseeable future.
— Bret Jensen
Sponsored Link: While selling is robust across most of the market, these are some attractive plays where insiders are stepping up and adding to their positions. This is a contrarian stance worth emulating, and one I am taking with my newest newsletter Biotech Gems.
Insider buying is always a strong signal in the small cap biotech sector and has led to to recommendations like Eagle Pharmaceuticals which returned 464% in just 6 months and Avanir Pharmaceuticals which returned 215% in just 5 months. These are just two of many biotech recommendations I have made to my subscribers that are bringing life-changing returns to their portfolios. Click here to see the returns from my biotech picks and learn more.
Source: Investors Alley
Positions: Long FCSC, HALO, QCOM & URI