One of the world's top resource investors says we're nearing the bottom in one beaten-down commodity…
Robert Friedland is arguably the most successful natural resource investor in the world.
He's the founder and executive chairman of Canadian exploration and development firm Ivanhoe Mines.
Over the years, Friedland has found and developed the world's fourth-largest nickel deposit, one of the world's largest copper deposits, and the largest gold deposit in Alaskan history – generating billions of dollars for himself and his investors.
[ad#Google Adsense 336×280-IA]So when Friedland talks, I listen. And right now, Friedland is bullish on copper…
On Tuesday, I heard Friedland speak at the Sprott-Stansberry Natural Resource Symposium in Vancouver, Canada.
In his presentation, Friedland explained why he's bullish on metals right now – especially copper.
Regular Growth Stock Wire readers are familiar with the copper story.
The copper price has taken a beating over the past four years… falling 48% from its 2011 high.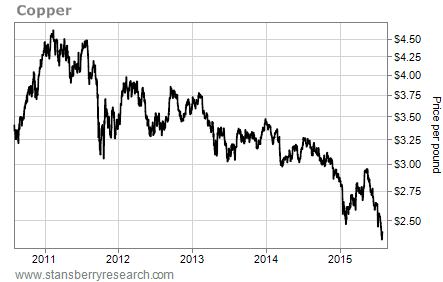 The decline in prices has caused copper producers to fall, too. For example, shares of giant copper producer Southern Copper are down 44% from their January 2013 high.
But Friedland believes copper prices will head higher over the next year or two.
You see, copper is a leading economic indicator. It's in everything from cars to air conditioners to cellphones. Because of this, it tends to boom and bust with economic cycles.
In times of strong economic growth, the demand for consumer goods and building materials that include copper increases… and copper prices rise. In times of slowing economic growth, the demand for these things decreases… and copper prices fall. That's what we've seen over the past few years.
However, Friedland says the outlook for the global economy going forward is positive.
In his presentation, Friedland pointed out that in the U.S., the Federal Reserve is going to raise interest rates because the economic recovery is well underway. He also dispelled fears about China's economy stalling. (Friedland came to Vancouver from his home in Beijing, so he has more local insight on China than the average Westerner.)
China is a major player in the commodities sector. It's the world's largest importer of raw materials like copper. So when its demand for these materials picks up, it's bullish for the commodities sector. For example, China's emergence as a major economic power helped drive the big bull market in commodities from 2002 to 2008.
Likewise, if the Chinese economy stalls – and many people think it has – its commodity consumption could sink.
But Friedland says people are mistaking China's stock market with its economy. China's stock market has plunged more than 25% from its peak in early June. However, the Chinese economy is something else altogether.
According to the World Bank, China's economic growth will be around 6.8% this year. The U.S., on the other hand, should grow 2.5%… and the eurozone is expected to grow 1.5%.
And while China's growth is expected to slow to 6.0% by 2017, the government will likely use monetary and fiscal policy (similar to quantitative easing in the U.S.) to prevent a rapid decline.
That means demand for metals from China should at least hold steady for the next few years.
Meanwhile, many mines have been shut down because of low metals prices. And few new mines are being built. That means copper supply is falling. Steady demand and falling supply will lead to a massive surge in price in a year or two.
Friedland doesn't think we're at the bottom yet, but he believes we are close. And when the bull market returns, it will send copper prices and copper producers soaring. I recommend putting the sector on your "watch list" today.
Good investing,
Matt Badiali
[ad#stansberry-ps]
Source: Growth Stock Wire