Marc is in Beaver Creek, Colorado, sharing his love of dividend investing with our Members at The Oxford Club's Private Wealth Seminar. So I'll pen this week's Safety Net.
Living in South Florida, I share my yard with a lot of wildlife. Most of the iguanas, snakes and frogs I see are pretty harmless. But a week ago, I ran across a poisonous cottonmouth snake on my front porch.
[ad#Google Adsense 336×280-IA]Needless to say, this uninvited guest made me very uneasy.
So when a reader asked about the safety of a mortgage real estate investment trust (REIT) named after a mythical creature that is part snake, I couldn't resist.
Marc reviewed the dividend safety of Chimera Investment Corp. (NYSE: CIM) in 2013 and gave it an F.
In fact, he said "it's about as safe as a 12-year old novice skateboarder trying to do aerial tricks."
The company was suffering from the market's 2013 destruction of mortgage REITs as well as its self-imposed implosion due to a pretty major accounting mishap. It had not filed a quarterly report with the SEC for over a year.
Fast-forward two years, and Chimera is now current on its filings. In fact, it raised its dividend in March for the first time since 2010.
Are things finally looking up for the company and its 13.70% dividend yield? Let's take a peek under the hood.
In 2014, Chimera distributed $575 million in dividends to investors. This included $205 million in special dividends announced in December 2013 but paid in the first quarter of 2014. During the same period, the company generated just $540 million in net interest income.
Although a REIT must pay 90% of its earnings in the form of dividends, net interest income is the metric Marc uses to evaluate the dividend safety of a mortgage REIT. It's how a mortgage REIT cranks out cash.
Net interest income includes the interest the mortgage REIT receives on the mortgages it owns plus its gains or losses on the mortgages it bought and sold, minus its interest expense.
Although it was up over 32% from the prior year, Chimera did not generate enough net investment income to cover its dividend payment. And net interest income was still down 5.3% from the $570.2 million the company earned three years ago.
There aren't any Wall Street estimates for Chimera's 2015 net interest income. But in the first quarter, Chimera reported net interest income of $182.7 million. It paid $94 million in dividends. Net interest income grew 3.4%.
The dividend is looking safer this year as long as the trend continues. The company thinks so, too. In June, Chimera declared its second, third and fourth quarter dividends of $0.48 per share. But I still don't feel comfortable in the long term. History has a habit of repeating itself.
Chimera's short track record of paying dividends is anything but stellar.
The company has been paying quarterly dividends since 2007 and has cut them seven times. Worse, management has a habit of raising the dividend only to cut it the very next quarter.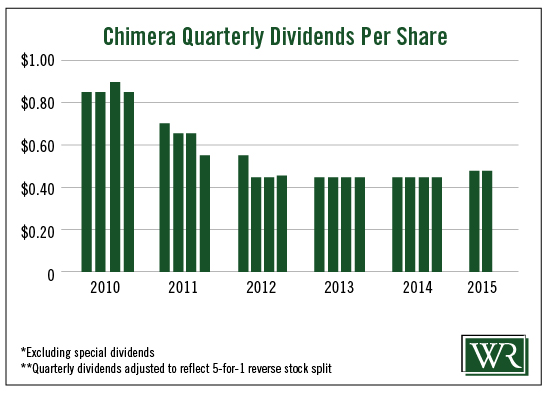 And Chimera's accounting woes may not be over. In its 2014 annual report, it disclosed management had identified a material weakness in a component of its internal control over financial reporting and disclosure. Although Chimera claims to have remedied most of the issues, one remains. It probably won't result in a massive restatement like last time, but it certainly doesn't give me confidence in the company's ability to manage its financials.
In Greek mythology, a chimera is a fire-breathing monster with a lion's head, a goat's body and a serpent's tail.
She's a scary-looking beast; so is the dividend safety of this mortgage REIT named after her.
As the saying goes, you can't keep snakes in your backyard and expect them to bite only your neighbors.
Eventually those snakes are going to turn on whoever has them in the backyard.
I need to see many more quarters of steady and/or rising dividends before I consider trusting the security of this mortgage REIT's yield in my dividend garden.
Dividend Safety Rating: F
Good investing,
Kristin
[ad#sa-generic]
Source: Wealthy Retirement