"Perhaps today was capitulation in the gold market," a CEO of a gold-mining company told me in an e-mail Monday evening…
Gold-exploration stocks had just lost 14% of their value in two days – based on the gold-exploration stocks fund, the Global X Gold Explorers Fund (GLDX). This CEO thought it could be the bottom in gold-exploration companies.
[ad#Google Adsense 336×280-IA]"It's hard to believe the current valuation of gold stocks," he said.
"I never thought I would ever see our stock back at these levels.
I could not resist and purchased some shares today."
He was a bit early in his optimism…
As I write, gold-exploration companies are down since he bought earlier in the week.
But I agree that it sure felt like "capitulation" – panicked selling that often creates a bottom…
Gold stocks are now down 87% in the past four years (as measured by GLDX). Meanwhile, stocks, in general, are up 72% (as measured by the S&P 500 Index) in the same time frame.
Take a look: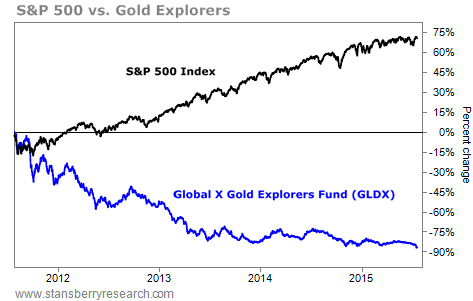 This is what a bottom in an asset often looks and feels like. The problem is, calling a bottom right is tough…
There is a much smarter way to invest in blown-out assets…
Here's what I told my paid subscribers in my True Wealth letter last week – before the big bust in these stocks:
Smaller mining stocks are definitely CHEAP and HATED today. But like gold, we don't have an uptrend yet – so we don't have our green light to buy.

Prices are cheap, but they could continue to get cheaper. We don't want to try to "catch a falling knife."

Don't worry, we won't miss it. There will be plenty of upside potential when we do get in.
It was the right call.
You might get the headlines and the glory for calling the bottom. But in the long run, it's difficult to make money doing that…
Gold-mining stocks are incredibly cheap today. And we will be buyers soon. But we want to wait until after gold stocks hit the bottom before putting money to work. That means we're waiting for now.
Good investing,
Steve
[ad#stansberry-ps]
Source: Daily Wealth