There's a big shift happening in the U.S. energy industry…
In April, more electricity was generated using natural gas than coal. It was the first time this has ever happened. But it won't be the last.
[ad#Google Adsense 336×280-IA]And this trend could make resource investors a lot of money…
Ten years ago, coal generated 50% of U.S. electricity.
Meanwhile, natural gas generated a meager 19%.
But in April, natural gas generated 32% of U.S. electricity… while coal generated just 30%.
As you can see in the chart below, until this year, natural gas wasn't even close to challenging coal as the most-used input in electricity generation.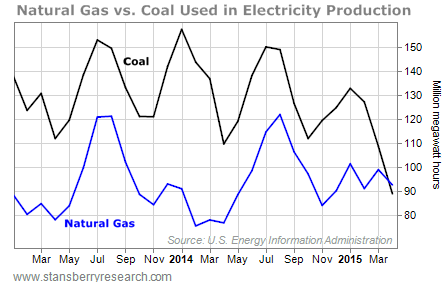 But this shift shouldn't come as a surprise. Coal is probably the most hated fuel in the U.S. today. It's dirty and old-fashioned. Governments around the world – including here in the U.S. – have recently been clamping down on the use of coal to decrease pollution.
So power plants are turning to natural gas to generate electricity.
You see, there's an abundance of natural gas right now. As we've shown you in these pages before, the U.S. energy boom is fueling the production of huge amounts of oil and gas. For example, marketed gas production (gas that's sold on the market) is up 20 times in the Marcellus Shale in Pennsylvania and West Virginia over the past decade.
And the growth in natural gas production has pushed down the price. In 2005, the average natural gas price was more than $9 per thousand cubic feet (Mcf). Today, natural gas is cheap, at less than a third of that price.
There are obvious environmental benefits of using natural gas, too. It produces much less carbon dioxide than coal. The U.S. Energy Information Administration (EIA) reported carbon dioxide emissions decreased by 3.8% in 2012. This was in part due to a cool summer that year… but the switch from power plants fueled by coal to gas was a big help. Emissions increased in 2013 (the latest available data), but they were still 10% below the 2005 level.
In short, there's plenty of cheap natural gas today. And it creates less pollution than coal. So demand for natural gas as a fuel source is on the rise.
Utility companies are already adding more gas-fired capacity to the power grid by using gas-fired plants. This year, the EIA expects the utility companies will add 4.3 gigawatts of net gas-fired capacity. This is enough power for about 3 million homes. In contrast, three times this amount of coal-fired capacity will go away.
Big beneficiaries of the increase in natural gas demand will be producers like Range Resources (RRC) and EQT Corporation (EQT). These companies are located in the heart of the Marcellus Shale. They're also producing profitably at today's lower natural gas prices.
Last quarter, both posted EBITDA (earnings before interest, taxes, depreciation, and amortization) margins above 50%. So for every dollar in sales, the companies generated more than $0.50 in earnings before EBITDA. An increase in demand will only help their bottom lines.
In sum, the shift from coal to natural gas continues. I suggest looking into these names today.
Good investing,
Brian Weepie
[ad#stansberry-ps]
Source: Growth Stock Wire