Major currencies are rising in value…
Since the U.S. dollar peaked on March 13, the Brazilian real is up around 8.5%. And the euro is up around 5.7%.
[ad#Google Adsense 336×280-IA]But two major currencies have
lost
value versus the dollar – the Japanese yen and the New Zealand dollar.
The fall in the New Zealand dollar has been spectacular. And investors have fled… which gives us an opportunity. History says this currency could soon bounce by double digits.
Let me explain…
The Japanese yen is down around 1% since the dollar peaked. But the New Zealand dollar has performed much worse than the yen.
It's down around 7.2% since March 13. And since last July, it's down a full 24%.
That decline scared investors out of the currency. Negativity in the New Zealand dollar hit its most extreme reading ever in June.
You can see this in the chart below. It shows the Commitment of Traders (COT) for the New Zealand dollar. The COT is a weekly report that shows the real money bets of futures trades.
It shows if traders love or hate an asset. And it's a useful contrarian indicator when it hits an extreme.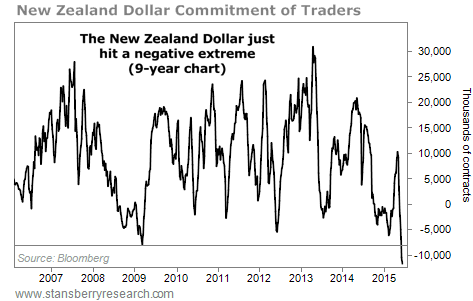 Today, the COT shows the most extreme negativity we've ever seen. Traders are betting the New Zealand dollar will continue its decline. But they're all making the same bet…
History shows that when futures traders all agree, the opposite tends to happen. And that means the New Zealand dollar could jump higher soon.
To test this, I looked at every time the COT fell below zero and then rose above that level over the past decade. The results are impressive…
The New Zealand dollar increased 11.7%, on average, a year after hitting and rebounding above a negative sentiment extreme. That's more than four times the typical one-year return we've seen over the past decade.
These are impressive results, but the New Zealand dollar isn't a "buy" yet.
You see, the COT just hit a negative extreme. We need to see the COT rise above zero before we consider buying. That will likely occur as the currency begins rising, which further lowers our risk.
The easiest way to get long the New Zealand dollar is the WisdomTree Australia & New Zealand Debt Fund (AUNZ). This fund owns debt in both Australia and New Zealand, but based on its history it tracks New Zealand's currency well.
As I said, the New Zealand dollar isn't a buy yet. But keep an eye on this currency in the coming months. It'll be a fantastic trading opportunity soon.
Good investing,
Brett Eversole
[ad#stansberry-ps]
Source: Daily Wealth