The stock market is likely headed lower over the next few weeks…
[ad#Google Adsense 336×280-IA]Last week, I told you
a "Head and Shoulders Top" pattern was forming
on the chart of the S&P 500.
This is a bearish pattern that often signals the end of a bull trend and the beginning of a bear trend.
And it can lead to large, fast gains for folks willing to bet on the downside.
Now, this pattern is playing out. And traders are getting the chance to profit…
Take a look at this updated chart of the S&P 500…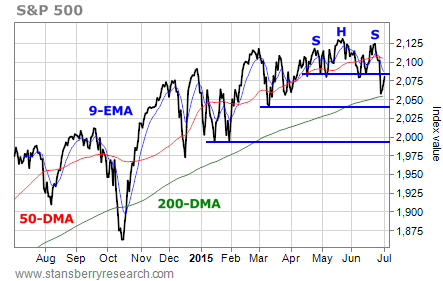 On Monday, the index broke down from the Head and Shoulders Top pattern. The target for this downside move is about 2,038. But we could see the S&P fall all the way to 1,990 over the next several weeks if we get a particularly hard decline.
Of course, it won't be a straight shot lower. We're going to get violent bounces off of oversold conditions.
That's how traders can profit on the short side.
Traders who want to profit on the short side need to be nimble. They need to take profits when the market gets oversold and is approaching logical support levels… then look to re-short as the index bounces back toward resistance.
For example, traders who shorted the market last week in anticipation of the Head and Shoulders Top pattern playing out should have locked in profits on Monday's big drop.
Monday's selloff pushed the S&P 500 to within spitting distance of its 200-day moving average (DMA). The index was oversold and stretched from both its nine-day exponential moving average (EMA) and its 50-DMA.
That was a logical spot to look for a bounce. And that's what we got [Wednesday].
The S&P 500 rallied all the way back up to the neckline of the Head and Shoulders Top pattern (near 2,080) on Wednesday morning. It has additional resistance overhead at the nine-day EMA (at 2,090) and the 50-DMA (at 2,105).
These are all good levels for traders to re-establish short positions.
To sum up, the intermediate-term trend for the stock market is now lower. We'll likely see the S&P 500 fall to 1,990 sometime between now and October.
But in the meantime, traders should take advantage of bounces like we saw [Wednesday] and use them as short-selling opportunities.
Best regards and good trading,
Jeff Clark
[ad#stansberry-ps]
Source: Growth Stock Wire