One of the most lucrative things I have learned over three decades of investing in the stock market is that it is critical to watch for increase analyst activity on a stock or sector as a pre-cursor for possible new investment ideas before they take off.
Obviously, all analysts are not the same and quite frankly plenty are fairly worthless.
[ad#Google Adsense 336×280-IA]The trick is identifying the wheat from the chaff.
In the old days or even five years ago that involved years of monitoring a select group of analysts to see which actually were good at covering certain equities or sectors in the market.
One could also pay over $10,000 annually to have a service like Starmine track all investment recommendations across the investment community to give you the best group of analysts for any stock or sector.
Thanks however to the growth of technology, one can now get this data for free using services like TipRanks.com which monitors the investment recommendations of over 8,000 financial analysts & bloggers. I use this to track my performance on the investments I recommend across Real Money Pro, SeekingAlpha and right here on Investors Alley. So far I have been fortunate and have ranked in the top five percent of analysts since 2013.
More importantly, this type of database can be instrumental in identifying stocks that analysts are increasingly warming up to before the market does. When I see a couple of four and five-star analysts start to get behind an equity I take notice. If I like the stock after I do further research I will take or increase my stake in that stock. I have found this method has helped identify some of my biggest winners within my own portfolio over the past few years.
So what stocks are starting to get increasingly positive analyst commentary and look attractive? Here are a few I think investors would be well-served to take a look at right now.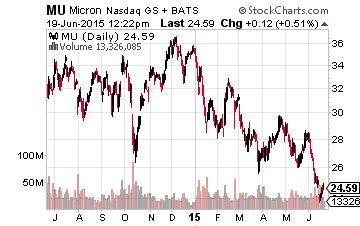 Beaten down chip maker Micron Technologies (NYSE:MU) is starting to get some love from analysts.
Jefferies, Stifel Nicolaus and Susquehanna all reiterated their "Buy" ratings on Micron on Thursday.
Price targets range from $36.00 to $41.00 a share on this stock currently selling at just under $25.00 a share.
Topeka Capital then upgraded the shares to Buy from Hold on Friday.
Important to note that with the exception of Susquehanna, these analysts are all five star rated for previous recommendations. More importantly, the chipmaker should do better in the second half of the year as DRAM demand picks up in front of the seasonal strong holiday driven fourth quarter. The stock is also cheap at just over seven times trailing earnings.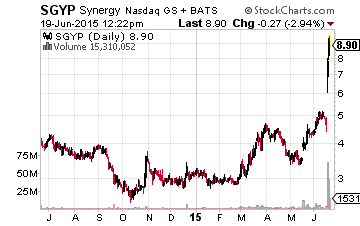 Next up is Synergy Pharmaceuticals (NASDAQ: SGYP) which is a stock I have been highlighting here on Investors Alley since it was trading at under $3.00 a share as a great under five dollar stock for 2015.
Synergy is now over $9.00 a share making it a huge winner for the recently launched Biotech Gems portfolio (shameless plug).
This small biopharma still has significant upside as one of its two main drug candidates "plecanatide" just completed successful Phase III trials as a treatment of patients with chronic ideopathic constipation.
This triggered the first analyst activity on the stock in seven months. A five star analyst at Cantor Fitzgerald raised his price target from $8.50 a share to $14.00 a share.
The same day another five star ranked analyst at Canaccord Genuity reiterated his Buy rating with a $19.00 a share price target. The analyst further noted "We have consistently stated for years that we think Linzess (a competitor in this space) can be a $2 billion drug. And now with this impressive data in hand, we see no reason why plecanatide couldn't have equal magnitude — in the hands of the RIGHT marketing partner." Don't be surprised if Synergy now finds itself a buyout target.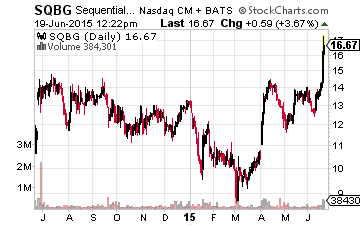 Finally, Sequential Brands Group (NASDAQ: SQBG), a stock I noted in April was picking up analyst support and is much higher was reiterated as a "Buy" at Piper Jaffray on Thursday.
This was the first analyst activity on the stock in two months.
It was reported late last week that the company is close to making a deal for Martha Stewart Omnimedia.
Sequential should be able to substantially drive more sales out of the Martha Stewart brand name due to its vast licensing network. I think this is the first of many acquisitions that will power growth by leveraging Sequential's core competencies and network.
Even at all-time highs, I like where management is taking this company and I would add a few shares on any pullback. Once the deal is official, I would also expect additional analysts upgrades accompanied by some upward revisions to price targets on the stock which would obviously be a positive catalyst for further stock price appreciation.
In a market that seems to take two steps forward and then one, even one and a half, back you've probably noticed it's become much more difficult to find stocks you don't feel are already fairly valued. There are still some out there, it just takes more time and effort to find them, even when starting with watching what the analysts are recommending.
— Bret Jensen
[ad#ia-bret]
Source: Investors Alley
Positions: Long MU, SGYP & SQBG