"Six months from now, China's market could double," Peter Churchouse wrote recently. "Or it could be down 50%."
The market could double… or it could fall in half. What's the use in that?
[ad#Google Adsense 336×280-IA]But Peter is making an important point…
Before I get to his point, let me introduce the man.
If you don't know, Peter is a legend when it comes to investing in China.
He has been an investment analyst based in Hong Kong for more than 30 years and was previously the head of research for Morgan Stanley in Asia.
I personally have learned a lot from Peter.
He is a good friend of mine these days.
He has personally taken me around China, Hong Kong, and Macau, looking at investments.
If I want to know what's going on in Hong Kong or China, Peter is my first call.
In his 30-plus years in the Asian markets, Peter has seen every type of boom and bust possible. He has successfully navigated markets losing 95% of their value… and markets quickly soaring hundreds of percent.
Peter was correct in telling his subscribers to buy Chinese stocks less than a year ago. His Churchouse Letter subscribers have profited handsomely from his advice.
But now, China's market is up more than 100% in the last year. Even though Chinese stocks have gone up a lot, based on valuation, they aren't expensive… yet.
So what is my China mentor saying today?
"Mainland China is still the Wild West when it comes to equity markets," he wrote in a recent note to his subscribers. "This may not be a valuation bubble, but it's clearly a speculative bubble driven primarily by massive retail market turnover with an appetite for a quick buck."
Local Chinese shares (called A-shares) are still trading for less than bubble valuations, even after their recent gains. They only trade for a forward price-to-earnings (P/E) ratio of 15 – a bit cheaper than U.S. stocks.
But the number of new Chinese investors has hit a staggering extreme. Chinese brokerage accounts are opening up at a record pace (according to recent numbers by the China Securities Depository and Clearing Corporation). The chart below shows the number of accounts added each week, going back to 2007…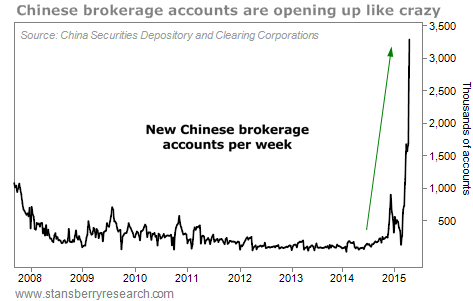 More than 3 million new brokerage accounts were opened in China just last week. That should ring some alarm bells…
New Chinese brokerage accounts are opening up at the fastest rate in history. Today's rate is even faster than during China's last stock market bubble in 2007.
This doesn't mean Chinese stocks have to crash today or tomorrow… or anytime soon, even. But what it shows is exactly what Peter said above: Local Chinese stocks are likely in a speculative bubble.
We can't possibly know when a speculative bubble like this will end. But that was Peter's point… because we're in a speculative bubble, things can go either way – quickly. The market could fall 50% from here… but it could also rise another 100%-plus over the next six to 12 months. The biggest risk is likely the Chinese government itself – deciding that "enough is enough" in the stock market.
After a 100% rise, your natural instinct might be that this bubble has to end soon. But don't be so quick to judge. China's market soared more than 500% during its last speculative bubble from 2006-2007. At this point, we're "only" up 100% in a year.
As I explained last month, there's likely more upside ahead in our Chinese stock recommendations. So we're staying long China to participate in even more upside. But it's important to be diligent and follow our trailing stops. You should do the same.
Peter is right… China has entered the speculative bubble stage. It could fall tomorrow… or it could double from here, just like it did the last time. We like our odds. We're sticking with China for now…
Good investing,
Steve
[ad#stansberry-ps]
Source: Daily Wealth