At this moment, far more of my own personal net worth is in north Florida real estate than the stock market.
Longtime DailyWealth readers know I've been recommending U.S. stocks for years. But the value today in Florida real estate is incredible. And it isn't just Florida.
Housing and real estate in most of America is cheaper than almost anyone realizes.
[ad#Google Adsense 336×280-IA]I've personally concentrated my investments out of stocks and into real estate because of this incredible opportunity.
And you should consider doing the same.
Let me explain…
What brings new home buyers into the market?
What makes them finally pull the trigger and buy?
For the typical home buyer, housing value has little to do with actual home prices.
And it has everything to do with monthly payments.
"Can I afford the monthly payment on this home?"
That's the question home buyers have to answer before pulling the trigger. And right now, the answer for most folks is "yes." Here's why…
Two things have happened… 1) we saw the worst bust in house prices in generations and we still haven't fully recovered and 2) mortgage rates are near all-time lows, below 4%.
I don't think people really understand how incredible current mortgage rates are. The chart below shows mortgage rates since 1900. As you can see, today's sub-4% levels are unprecedented…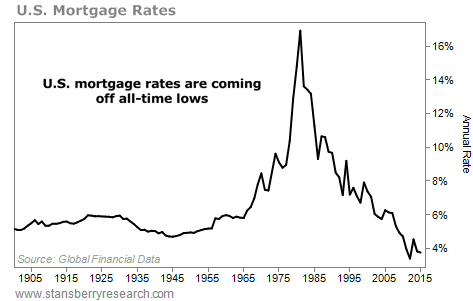 With mortgage rates this low, housing is now more affordable than ever. (Affordability combines home prices, mortgage rates, and incomes.) And that means home prices could still move significantly higher.
How much could home prices move?
Based on normal housing affordability, fair value for U.S. housing is around $261,500. So right now, median home prices are well below fair value. Take a look…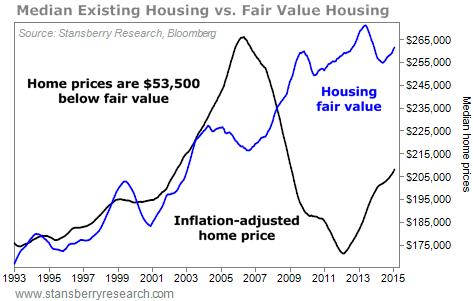 The gap between housing prices and fair value has been closing since 2012, when home prices began to move higher. But housing is still $53,500 below historical fair value. There's plenty of upside in U.S. housing!
I've been writing this for years, but the story is still true today. It's still one of the best times in American history to buy a home.
I'm not saying the bull market in U.S. stocks is over… But the better opportunity is in U.S. housing and real estate.
Homes in America are still an incredible deal. They're $53,500 below fair value, based on our data. And it's finally getting easier for people to get a mortgage.
In short, U.S. real estate is where my chips are right now – much more so than the stock market. I suggest you consider following my lead.
Good investing,
Steve
[ad#stansberry-ps]
Source: Daily Wealth