The best way to invest in natural resources today isn't some new shale company or a tiny gold explorer.
There's a far steadier, safer way to invest in the sector.
[ad#Google Adsense 336×280-IA]Instead of owning a company focused on one big strike, you can own a company with a diversified and growing portfolio of claims on different projects.
This type of company doesn't have any of the operating risks or expenses of producers… and it still benefits from higher commodity prices.
I'm talking about royalty companies…
In every industry, there's usually a low-risk way to get paid over and over again for a single idea.
For example, in the drug business, the big money is in patents.
After a new drug is developed and patented, a scientist can partner up with a larger company to handle the expenses and risks of testing, marketing, and distribution.
Then the patent holder gets paid for every prescription that gets filled. The guy who developed the popular pain medication, Lyrica, for instance, shares in more than $2 million per month because he owns the patents. The ladies who owned the patents on the anti-fungal medicine Nystatin shared in more than $50,000 per month.
In the publishing business, the big money is in royalties. Once you do all the work writing a book you just sit back and collect your share of the profits. President Barack Obama, for example, makes on average more than $72,000 per month from sales of his best seller, The Audacity of Hope.
The same is true in natural resources. You can get paid over and over again, simply for owning an incredibly valuable asset.
The giant nickel mine Voisey's Bay in Newfoundland Canada is a great example. In 2003, Christopher Verbiski and Albert Chislett sold 0.3% of their 3% royalty on the mine for $13 million.
That 0.3% royalty has paid out $29.4 million so far, and the mine has another 21 years of life… In other words, that 0.3% will end up being worth around $80 million total. That's a phenomenal investment.
There are royalties on mines like this around the world. These royalties are usually paid to the original landowners… or the first company to discover the deposit that eventually becomes the mine.
But some companies do nothing but acquire royalties on existing or developing mines… a business model that has worked extremely well for these companies and their shareholders.
Regular Growth Stock Wire readers are familiar with royalty companies.
Royalty companies don't mine metals or produce oil or natural gas. Instead, they generate cash by earning a revenue stream on the production of natural resources like oil, natural gas, coal, and precious metals.
Because these companies aren't spending money to explore or produce, they don't have the same risks and expenses producers have.
For example, unlike miners, royalty companies don't have to pay geologists to find prospective ore bodies or oil and gas deposits. They don't rent or buy chunks of land… or pay the government for the proper permitting and licensing fees.
They also don't have to rent or buy expensive drilling equipment (which may break down) or pay expensive labor forces (who could go on strike).
A royalty company simply makes a one-time payment to finance a project. Once the project is developed, the company just shows up each month to collect a check. That's essentially all there is to the deal.
This business model allows companies like Royal Gold (RGLD) and Franco-Nevada (FNV) to generate massive profit margins of 80% to 90%. It also shields these companies from swings in the price of commodities more than regular producers. That's why royalty companies routinely outperform producers – even when commodity prices are low.
You can see this in the below chart of RGLD versus the benchmark Market Vectors Gold Mining Fund (GDX).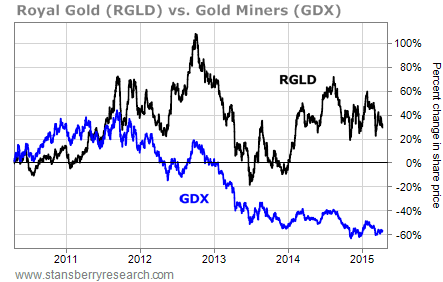 As you can see, over the past five years, Royal Gold shares returned more than 20% to investors. Meanwhile, with low gold prices, GDX shares lost nearly 60% of their value. That means Royal Gold outperformed gold miners by around 80%… while working in the same business.
If gold prices continue to stay low, Royal Gold should continue to fare better than gold miners. And if gold prices soar, Royal Gold will be a big beneficiary.
In short, companies like Royal Gold allow investors to participate in the natural resource sector with far less risk and big upside potential. That's why royalty companies are by far, the best way to invest in natural resources – be it gold, coal, oil, or natural gas.
Good investing,
Matt Badiali
[ad#stansberry-ps]
Source: Growth Stock Wire