Junior mining stocks have been clobbered over the past four years.
The "Dow Jones Industrials" of junior miners – the S&P/TSX Venture Index – is down more than 70% from its 2011 high.
In December, the Venture Index hit a record low.
[ad#Google Adsense 336×280-IA]Many junior miners are now penny stocks, with share prices of less than $0.10.
This has many contrarian investors interested in the sector.
As regular Growth Stock Wire readers know, the best time to buy an asset is when it has been "blown out and left for dead."
But if you're looking to buy extremely cheap junior miners, I urge you to be cautious…
In October, I told you about the troubles facing junior mining companies today.
Junior miners have been in "bust" mode for the past four years.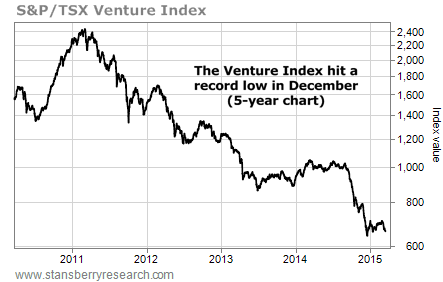 Today, many of these companies are struggling to survive. As I said in October, they're changing focus from exploration to self-preservation. Many have laid off employees and cut back on drilling and exploring to cut costs.
But this hasn't been enough to help the sector. Roughly half the stocks listed on the Venture Index are now trading below $0.05 per share. In the past, this would almost certainly be a death sentence for these companies.
You see, the Venture Exchange's rules said a company couldn't raise money by issuing new shares with a share price of less than $0.05. And no one will lend money to an unproven company that's just going to put it all back in the ground. So without cash, these companies couldn't pay their bills and explore. In the massive bear market of the 1990s, many of these miners went bankrupt.
But in 2013, as the bear market drew out and more companies were at risk for bankruptcy, the Venture Exchange relaxed the rules. A company can now raise money by issuing new shares even if its share price is below $0.05.
With the hope of raising new capital, you might think these stocks are "safer" to invest in than before. And if you invest in the right penny stocks, you could make a lot of money, right? After all, a move from $0.05 to $0.20 is a 300% gain.
But the truth is, these stocks aren't any safer today. And you're almost guaranteed to lose money by investing in them.
You see, for these miners to survive, most will need to raise at least $1 million by issuing new shares. It costs that much to create value through exploration and drilling.
For a company to raise $1 million with shares at $0.05, it must issue 20 million new shares. The average number of shares per company today is about 72 million. That means these $0.05-share companies have to dilute shares by 28% to raise $1 million.
(When a company issues new shares, existing shares get diluted. Shareholders now own a smaller piece of the "pie.")
So, essentially, existing shareholders' shares would have to fall 28% for an unproven company to raise enough money to pay its bills, drill, and explore. The company's share price would need to increase 28% for investors to just make back their original investment.
That scares the daylights out of me as an investor.
And just because these companies raise $1 million doesn't mean they'll survive. Many of these miners have plush offices in high-rise towers in Vancouver. That means they have expensive leases. They also have bloated staffs. In many cases, $1 million will only pay the bills for six months or so. Then they'll have to raise money all over again.
Plus, when much of the cash in the bank is being used to pay salaries and office expenses, it's unlikely many of these miners will fund successful exploration efforts.
In short, these companies are the walking dead. There is little hope of recovery for most of them. That's why I urge you to avoid the extremely cheap junior miners at all costs right now.
Good investing,
Matt Badiali
[ad#stansberry-ps]
Source: Growth Stock Wire