The energy sector continues to be a pariah as crude struggles to find a floor. Financials have been hit due to falling interest rates and disappointing quarterly results from the major banks. American multinationals have seen the strong dollar start to significantly impact the earnings they get from overseas. Consensus earnings estimates for the S&P 500 for 2015 have moved down some 10% over the past nine months.
Defensive sectors like Utilities and Consumer Staples have held up well as the market has shifted into a defensive mode and shunned the high beta or "risk on" parts of the market.
[ad#Google Adsense 336×280-IA]The one exception to this is the biotech space.
iShares Nasdaq Biotechnology ETF (NYSE: IBB) actually posted a nice gain for the opening month of the year powered by standout results from the likes of large cap juggernauts like Celgene (NASDAQ: CELG) and Biogen Idec (NASDAQ: BIIB).
This makes sense as this sector is seeing growth estimates hold up and is not impacted by falling oil and has less foreign currency exposure than the likes of IBM Corporation (NYSE: IBM) or Google (NASDAQ: GOOGL).
Small cap biotech stocks have also been holding up well despite being in a notoriously volatile sector. This sector has powered a good portion of the gains in the Small Cap Gems portfolio in recent months. It also has contributed several standout performers within articles I have done recently here with Investors Alley. This includes ZIOPHARMA Oncology (NASDAQ: ZIOP) which has doubled since being profiled seven weeks ago (see article here).
Hoping to duplicate that success, let's talk about a couple of small cap biotech stocks that have some lucrative potential positive catalysts ahead of them in 2015.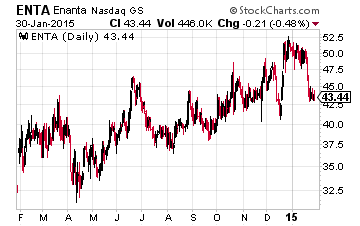 Let's start with Enanta Pharmaceuticals (NASDAQ: ENTA) which has a market capitalization just south of $1 billion at the current time.
The company is focused on creating small molecule drugs in the infectious disease field.
They currently are developing novel inhibitors designed for use against the hepatitis C virus.
Hepatitis C has been in the news a lot over the past year thanks to the blockbuster success of Sovaldi/Harvoni from biotech juggernaut Gilead Sciences (NASDAQ: GILD) which happens to be the biggest position in my own portfolio at the present moment and is a core selection within the Blue Chip Gems portfolio as well.
The company supplies part of the Viekera Pak from partner AbbVie (NASDAQ: ABBV). The drug treatment has emerged as a worthy competitor in the hepatitis C space. Analysts believe this course of treatment could eventually garner 15% to 25% of the huge overall worldwide hepatitis C market.
The treatment has been approved in the United States and Europe which triggered milestone payments to Enanta. These should total over $200 million over the next several months as the combination rolls out in the United States and Europe and is approved in other countries as well. Enanta will also now get a recurring royalty stream from sales of this treatment worldwide. The company already had over $100 million in net cash on its balance sheet prior to these milestone payments.
In addition, Enanta has four other early stage drugs targeted at hepatitis C, again mostly with partner AbbVie as well as a couple of protease inhibitors in early development. The company also has a five year contract with the National Institute of Allergy and Infectious Diseases to fund the preclinical and clinical development of a new class of bridged bicyclic antibiotics known as Bicyclolides, to be used as medical countermeasures against multiple biodefense Category A and B bacteria, including "superbugs," respiratory tract infections, and intravenous and oral treatments for hospital and community Methicillin-resistant Staphylococcus aureus.
Enanta is very interesting as a standalone investment given how revenue growth will accelerate greatly over the next year, its focus on the lucrative hepatitis C market, great balance sheet and emerging pipeline. Given the interest in the hepatitis C space right now and already existing partnership with a major drug giant, no one should be surprised if Enanta becomes a takeout target in 2015 as well.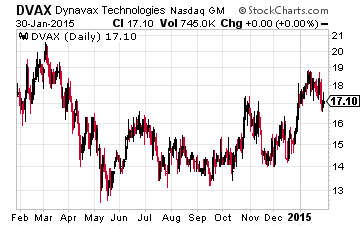 I also want to give a quick update on DynaVax Technologies (NASDAQ: DVAX), which I profiled three months ago (see article here).
The stock has risen more than 10% since I last wrote about and still has significant upside in 2015 if all goes well.
The company is getting closer to completion to its Phase III trial for hepatitis B which has over 8,000 subjects.
Results should be out in the second half of the year and the stock could run up into their release given encouraging trials with smaller subsets.
In December the company announced it was entering into a collaboration agreement with drug giant AstraZeneca (NYSE: AZN) to do a phase II trial for one of DynaVax's lead products to treat asthma. AstraZeneca will fund the study. This $450 million company could receive upwards of $100 million if the study reaches successful endpoints. DynaVax has over $100 million in net cash currently on its balance sheet as well.
Obviously the hepatitis B trial and Phase II trial with Astrazeneca could be significant catalysts to stock price appreciation in coming months if they deliver successful results. Analysts are very high on the prospects of DynaVax right now as well. Since my last article ran in October, Cowen has reiterated a buy rating and a whopping $60 a share price target on this stock that currently trades at just over $17 a share. Jefferies also has recently reiterated a buy rating with a more subdued price target of $30 a share.
Both of the selections above have several traits when looking for attractive but speculative stocks in this volatile small cap space. They have potentially significant positive catalysts in front of them, several shots on goal and the balance sheets to get them to their critical milestones. It was the same criteria that led me to put Agenus (NASDAQ: AGEN) into the Small Cap Gems portfolio in late November. The stock is up better than 60% since then and still has solid growth prospects in front of it.
Finding these small, innovative stocks with double and triple digit potential like Agenus above has become a specialty for me over the years using my "Domino Strategy". I look for stocks with everything lined up and ready to go. And right now biotechs are stocks stacking up the dominoes, waiting to deliver big returns like the ones my Small Cap Gems readers enjoy.
Why? Two reasons: the first is that much of the "risk on" money that piled into energy stocks during the first half of 2014 is still moving over to biotech and biopharma, and secondly because many of these firms are truly on the cusp of wealth-building breakthroughs. For more on how I find these winners and how you can too, click here for my short briefing.
— Bret Jensen
[ad#ia-bret]
Source: Investors Alley