I have found over three decades of investing that few areas of the market provide more potential upside than the small cap healthcare stocks that others have given up on but which have catalysts to spur their shares much higher over time.
When the market ignores the future catalysts for creating shareholder value it allows investors like us to pick up shares before the major rallies occur.
Small companies in the biotech, medical device, and biopharma spaces are inherently volatile and tend to have many bumps in the road as they try to establish their businesses in a very competitive market.
[ad#Google Adsense 336×280-IA]Trial results can be disappointing, FDA approval can be slow and these stocks can move 50% quickly in either direction.
These areas also have very high failure rates and can be whipsawed when the market moves into "risk off" mode as well.
Although these stocks are volatile, turnaround investing in healthcare can make the diligent investor rich.
Finding stocks in these industries that have promise and whose potential is underappreciated can yield many five and ten bag winners when things work out.
My regular readers know that I have been fortunate enough to find many of these winners over the past few years, even developing a strategy for finding the stocks with the most potential.
Two of my best calls over the past three years have been ZELTIQ Aesthetics (NASDAQ: ZLTQ) and Lannett Company (NYSE: LCI).
ZELTIQ was a cosmetic surgery play that at the time was a busted IPO selling at $5 a share and once touted by Jim Cramer. The company was having some temporary problems at the time and investors did not appreciate its "razor and razor blades" business model. That since has changed and the shares now change hands for just less than $30 a share.
Lannett was an even bigger winner. This company develops and manufactures generic versions of branded pharmaceutical products in the United States. I highlighted the shares when it traded at $4.50 a share in November of 2012, a time when it was facing some regulatory scrutiny around one of their main products. Investors were not appreciating their deep pipeline, high cash balances, and minute market capitalization ($125 million at the time). The company has moved past its temporary issues and has experienced huge revenue growth. The stock now trades north of $45 a share.
It is this passion that prompted me to launch The Turnaround Stock Report and it is why I spend a good portion of my time researching the markets to find my next winner in these spaces. In today's article I want to profile two stocks selling for less than $2.00 a share that have significant upside potential if things go their ways over the next couple of years.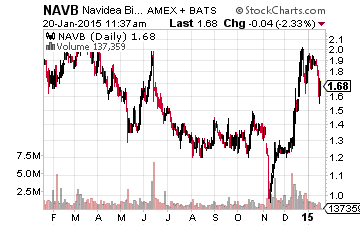 Let's start with Navidea Pharmaceuticals (NASDAQ: NAVB).
The stock sold for north of $5 a share in early 2011 but has disappointed investors since bottoming around $1 a share in late 2014.
However, the shares have been on the move recently as management has initiated two efforts I believe will create exceptional shareholder value over the next few years.
First the company is expanding the footprint of its main product Lymposeek, which is an imaging agent used to highlight an expanding roster of tumors. Navidea received approval a couple of months ago for distribution of this compound for use in the European Union for imaging and intraoperative detection of sentinel lymph nodes draining a primary tumor in adult patients with breast cancer, melanoma or localized squamous cell carcinoma of the oral cavity.
A month before the company received approval for expanded use using Lymphoseek in mapping solid tumors and adding Sentinel Lymph Node detection for breast cancer and melanoma to its already approved indications. Lymphoseek is already seeing 20% sequential (quarter over quarter) increases in dosage use as of last quarter and recently pushed through a 19% price hike on the compound as well.
More exciting, the company has decided to use the technology behind Lymphoseek to work in conjunction with other drugs to help target tumors for treatment rather than just image them. I expect the company to sign at least one high profile partner in 2015 which should be a positive catalyst for the stock.
Another I like is Agenus Inc. (NASDAQ: AGEN), which I have highlighted a few times with Investors Alley and uses a similar partnership model with success. That stock has risen more than 75% in the past few months on new licensing deals. This small cap equity has few analysts covering it right now. The three analysts that do cover Navidea have price targets ranging from $3.00 a share to $9.00 a share on the stock, all substantially above the current price level of $1.75 a share.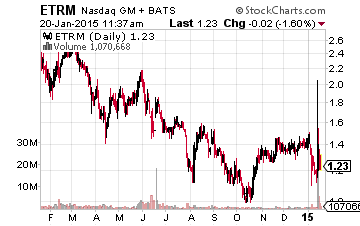 I also would like to provide a quick shout out to EnteroMedics (NASDAQ: ETRM), a medical device maker with a market capitalization south of $100 million.
Like Navidea, this company has been a major underperformer over the past few years as it struggled to bring its Maestro weight loss product to market.
However this pacemaker like device that controls appetite in morbidly obese individuals was just approved by the FDA earlier this month. The $15,000 device fills a void between pills and major surgery. Significant sales growth could accrue slowly as it will take a year or so to be approved for reimbursement via Medicare and major insurers.
At least the company finally has an approved product to serve a growing niche. The company could now easily find itself a buyout target of a larger firm in the space where this device would fill out a product lineup. The shares trade at $1.25 a share currently. The five analysts who cover the company have a median price target of $4.00 on ETRM.
As with most companies in these spaces, both of these equities are speculative but I believe have good risk/reward profiles for aggressive growth investors.
— Bret Jensen
[ad#ia-bret]
Source: Investors Alley