It has been a very bumpy start to the New Year for investors as volatility has increased substantially. Oil prices continue to plunge and the U.S. dollar continues to strengthen, roiling sectors of the market.
[ad#Google Adsense 336×280-IA]However, that doesn't change the fact that investors are still hungry to find the next sector that can make them rich, fleeing the energy markets and moving their money elsewhere.
One part of the market that has been a refuge to "risk on" players is the small biotech and biopharma space.
Most of my articles in this area usually focus on the biotech portion of the sector as there is so much novel development going on that holds great promise.
It also seems every week another small biotech gets bought out or gains an important licensing agreement with a major pharma or biotech player. Biotech stocks are going to be big winners in 2015 and looking forward, the next big buyout is just around the corner.
However, one should not overlook some of the smaller biopharma plays as they hold similar promise even as they work with different compounds and technology. A great example of this potential was demonstrated by Avanir Pharmaceuticals (Nasdaq: AVNR) in the back half of 2014. The shares rocketed to $17.00 from just over $5.00 on back of positive phase II trial results to treat agitation in Alzheimer's patients which triggered a buyout offer from a larger Japanese based pharma firm. This provided a nice 215% for Small Cap Gems subscribers as it was one of our two inaugural picks in July.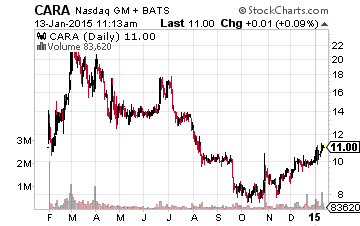 Right now I own a couple of small biopharma plays, both of which are in the business of producing better pain relievers for post op patients and other populations with chronic pain.
The first is a recent busted IPO named Cara Pharmaceuticals (Nasdaq: CARA).
This company is developing drugs that can relieve pain like an opiate-based compound but without the narcotic addiction traits current drugs have. This is the "holy grail" goal in this space and the company has had some promising results in early stage trials.
It is tough to imagine a company that had worse luck in 2014 than Cara. Not only did the company come public just before the massive sell-off that hit the entire biotech/biopharma space in early March like a freight train but then its Chief Medical Officer and CEO unexpectedly died in October. The stock moved from an earlier high of over $23 a share in the first quarter to around $11 a share at the present moment.
Nothing about the company's fortunes has really changed since going public when the stock traded at much higher levels. The company has enough cash on the balance sheet to fund trials for the next 18 months and has a couple of important phase II trials underway. Its compounds are targeting the same receptors as GW Pharmaceuticals (Nasdaq: GWPH) which has received a much different reception from investors mainly as it has been deemed a "marijuana" play.
The company is starting to get some love from analysts. A five star analyst, according to TipRanks, from Canaccord Genuity put a "Buy" rating and a $20 a share price target on the company last week. Summer Street did the exact thing one month ago. Needham also put a Buy rating and price target of $22 a share on Cara two months ago.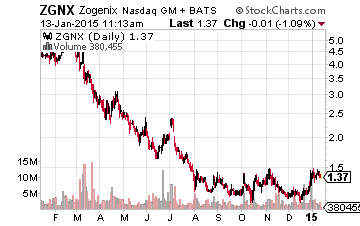 I also like Zogenix (Nasdaq: ZGNX), a key portfolio holding added to The Turnaround Stock Report portfolio in November.
This small biopharma is focused on developing therapies that address specific clinical needs for people living with CNS (Central Nervous System) and pain-related conditions that need innovative treatment alternatives to help them return to normal daily functioning.
The company's main product right now is Zohydro. This is a compound for chronic severe pain sufferers who cannot tolerate the acetaminophen that is used in other extended-release opioid medications such as OxyContin and hydrocodone (Vicodin). This population is believed to be some 2.5 million just in the United States. In its last completed quarter sales of Zohydro grew at 47% year-over-year.
The company has a proprietary once-monthly subcutaneous formulation of risperidone for the treatment of schizophrenia in phase II trials. Finally it recently purchased a compound that could potentially be a treatment for Dravet syndrome that will soon start Phase III trials. There are some solid "shots on goal" here.
Given its one approved drug already on the market and its pipeline Zogenix could make an attractive buyout target as a pharma firm with a much bigger sales force which could pump up sales exponentially. The stock currently trades just under $1.50 a share.
Brean Capital recently initiated the shares as a "Buy" with a $2.50 a share price target. Brean believes a more abuse deterrent formulation of Zohydro to be submitted for approval shortly could be a positive catalyst for the stock. The company is currently posting small losses but revenues are projected to ramp up sharply over the next year and Zogenix has some $50 million in net cash on the balance sheet.
Both of these small biopharma companies are speculative in nature and have market capitalizations of under $250 million. However, both have attractive prospects within the pain management space. They are worthy of consideration in a well-diversified biotech and biopharma portfolio
— Bret Jensen
[ad#ia-bret]
Source: Investors Alley