Housing optimism is back up to 2006 levels…
Should we worry about a 2006-style bust?
After all, 2006 was "the beginning of the end" in U.S. housing. And it kicked off the worst housing bear market of our lifetimes.
But today's optimism is not a bad thing, as I'll show.
Homebuilders are now at 2006 levels of optimism. But today is not 2006. Home prices are still "cheap" today. And I still believe home prices could rise significantly from here.
Let me explain…
Conditions in the housing market have improved dramatically after the market bottomed out in 2011.
The economy has recovered.
Unemployment has fallen.
And folks are in a better spot to buy homes.
This is what I expected to happen. I've written about why housing could rise for years.
And I've been right so far. And now, after years of pessimism, homebuilders are downright enthusiastic about the future.
We can see this through the National Association of Home Builders (NAHB) Market Index…
This index is a survey of what homebuilders think about the housing market. A reading above 50 is positive. A reading below 50 is negative.
Today's reading is the highest we've seen since 2006. Take a look…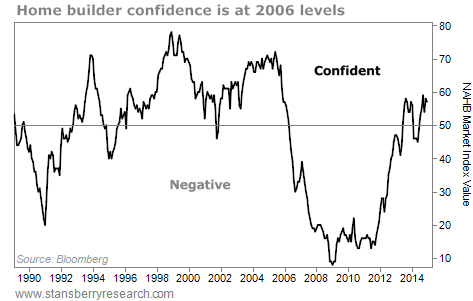 Seeing that might make you nervous. Anyone burned in the housing bubble will be fearful of a housing indicator at 2006 levels… Especially one that shows how excited folks are about housing.
But today's housing market is much different than it was in 2006. I don't expect a crash for one simple reason. Housing is still "cheap" right now.
This becomes painfully obvious when you look at housing affordability…
Housing affordability is a simple comparison of three things… 1) income, 2) housing cost, and 3) mortgage rates.
During the housing bubble, home buyers bit off more than they could chew. Anyone with a pulse could get a mortgage. The problem was, many people couldn't afford what they bought. High mortgage rates and housing costs made housing unaffordable in 2006.
But today, even after a big move up in prices, housing is still affordable. Take a look at the Housing Affordability Index…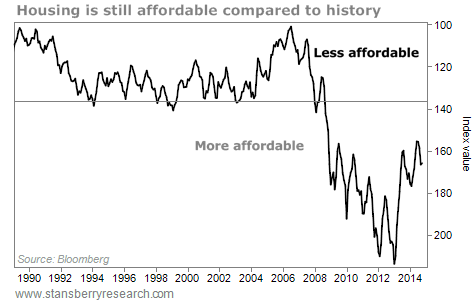 Affordability is down since 2012. But it's still dramatically higher than the long-term average.
Home prices would need to rise another 20%-plus to hit their long-term average affordability. Of course affordability could also fall if incomes decrease or mortgage rates increase. But the main affordability driver over the past few years has been home prices… And I expect that to continue.
So yes, homebuilder optimism might be at 2006 levels. But today is NOT 2006. And optimism is not a problem…
We're still in the housing sweet spot. And housing is still cheap.
There's still time if you haven't bought a house. Don't miss out!
Good investing,
Steve
Your One-Step Inflation Survival Guide
[sponsor]
With accelerating inflation and declining stocks, you likely need a different investing approach. A 20-year market veteran shares an easy one-step plan, including details on his No. 1 GOLD recommendation today, right here.
Source: Daily Wealth