It is the time of the year that is full of optimism as we celebrate the end of another year.
It is a season for the traditional "Santa Claus" rally and for pundits to offer up their best equity picks for the New Year.
The stock market delivered another year of double digit returns and almost all sectors, outside of energy and commodity stocks, did well.
[ad#Google Adsense 336×280-IA]With the economy finally showing some signs of migrating to a higher growth plane after being stuck for over five years in the worst post recovery on record, investors have a reason to look forward to 2015 as well.
It is within that optimistic vein I offer up two attractive high risk/high reward stocks that could turn out to be market rockets in the upcoming year if everything falls right.
Both can be had right now for less than the price of a "grande" coffee at Starbucks these days.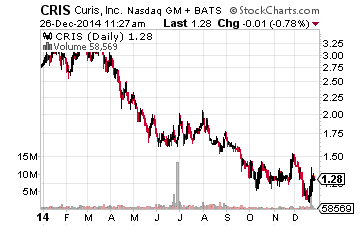 Let's start with a small biotech named Curis Inc. (Nasdaq: CRIS). Curis has a market capitalization just north of $100 million and focuses on oncology.
The stock of Curis was selling at $3 a share before the huge sell-off that took down the entire biotech sector in March, especially small cap stocks.
The stock spent most of the last six months in a relatively tight trading range and currently is selling at approximately $1.30 a share.
Curis has several traits I look for in a company before I make an investment in this inherently volatile space. First, it has one product already on the market with Erivedge. This compound is a first-in-class drug targeting the hedgehog pathway that was developed and is being commercialized by the firm's collaborators, Genentech in the United States and by Roche outside the U.S., for the treatment of advanced basal cell carcinoma. This form of skin cancer is one of the most prevalent types of cancers in the world.
Erivedge has already been approved in more than 50 countries, and Roche continues to pursue marketing approvals in many others. The company took in $1.8 million in royalty revenue in the third quarter; this is up from $1.1 million in the same quarter of last year. Revenues should continue to grow as this compound gains traction in more markets.
Second, the company has a solid balance sheet with almost half of its current market capitalization represented by net cash on the balance sheet which should allow it to operate without further capital raises well into 2016. It also already has partnerships with two major players in the biotech/pharma space which bodes well for future collaborations.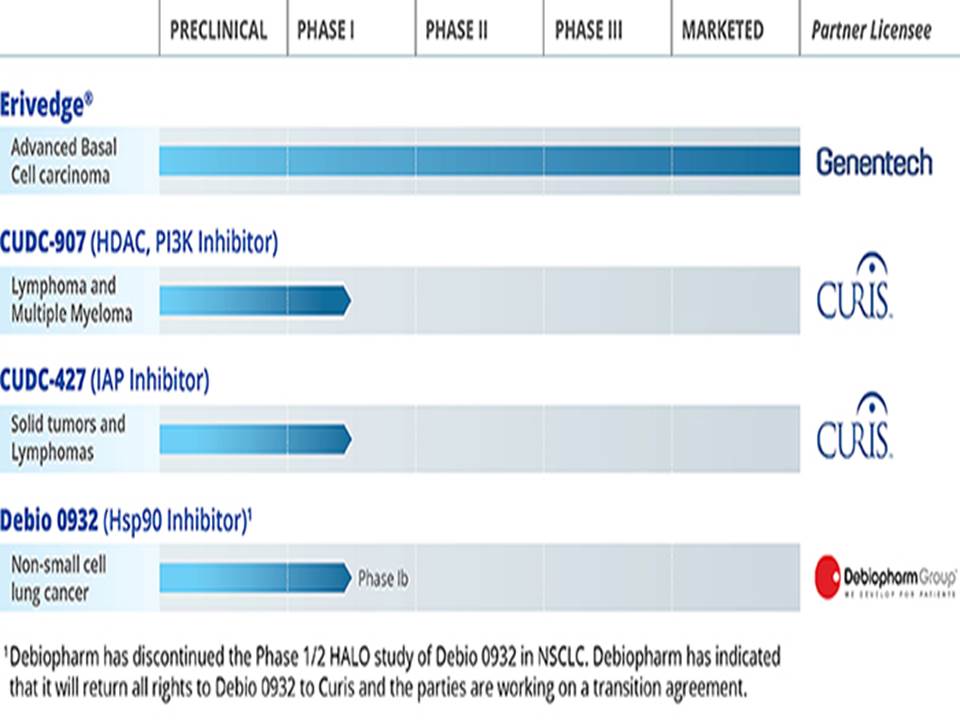 Finally, the company has a couple of promising products in early stage development including ones that just commenced small trials to see if these drugs can help target certain types of lymphoma and multiple myeloma. 2015 could see some good initial trial results which would be a positive catalyst for the stock. Analysts are high on the prospects for Curis. The seven analysts who cover the company have price targets ranging from $3.00 to $10.00 a share on the stock, all substantially above where the shares are currently trading.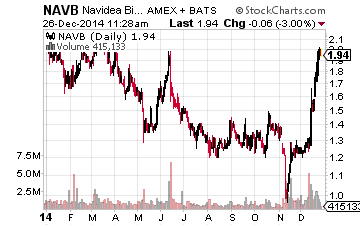 Let's move onto Navidea Pharmaceuticals (Nasdaq: NAVB) which is currently trading at $2.00 a share and has been on the move recently.
Navidea is expanding the geographical footprint of its main product Lymphoseek and has just made the decision to pursue therapeutic opportunities.
Navidea currently has a market capitalization of approximately $300 million.
Lymphoseek is an imaging agent that is used to highlight an expanding roster of tumors found in a variety of cancers and other diseases. The compound just saw a 20% sequential (quarter over quarter) increase in dosage use in its last completed quarter and also just pushed through a significant price increase which should boost substantially the $4 million in revenue Lymphoseek is expected to bring in for 2014 when the numbers for the year are finalized.
What has caused the stock to rally recently and should be a positive catalyst to continued capital appreciation is the company's recent decision to use the technology behind Lymphoseek to deliver drugs developed by other biotech/pharma companies directly to tumors rather just being used to image them. Obviously this opens up a huge and more lucrative opportunity.
This new direction, driven by a new CEO, should provide numerous benefits to Navidea. By partnering with deeper pocketed players, the company can expand its potential pipeline exponentially as the financial model changes as other firms will fund development of these potential trials. Navidea will receive upfront fees, milestone payments, and royalties from approved drugs.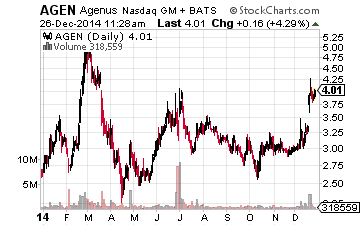 This is same formula that Agenus Inc. (Nasdaq: AGEN), which has rallied strongly since inclusion in the Small Cap Gems portfolio in November has used successfully to further studies of its vaccine adjuvants and checkpoint inhibitors.
Navidea already has an impressive amount of trials going on for other indications that Lymphoseek can target before any new partnerships are announced for this new strategic direction.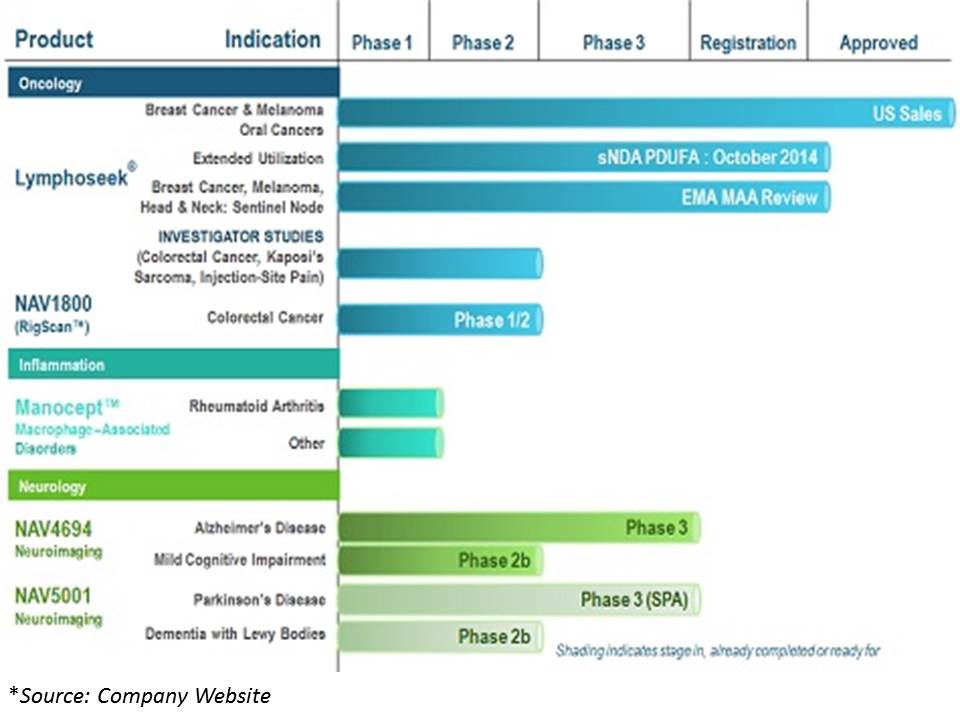 Neither company is yet profitable but both company's main product line is expanding rapidly and their pipelines represent myriad "shots on goal". As new partnerships and trial results are announced in the New Year I expect both stocks to power significantly higher.
— Bret Jensen
[ad#ia-bret]
Source: Investors Alley
Positions: Long AGEN, CRIS & NAVB