[ad#Google Adsense 336×280-IA]"Chinese stocks have the potential to deliver triple-digit returns within 24 months," I explained on CNBC yesterday morning.
That was a bold thing to say on camera… but I believe it's absolutely possible… In fact, twice in the last decade, Chinese stocks have soared by triple digits within two years.
While on CNBC, I talked about the U.S. housing market and how I am putting my own money to work in real estate… I talked about how I believe the stock market could go much higher even in the face of higher interest rates… but the biggest opportunity that I talked about was China.
When China goes up, it can soar… In China's 2006-2007 bull market, Chinese stocks soared by 500%. It soared by more than 100% in its 2009 bull market as well. See for yourself: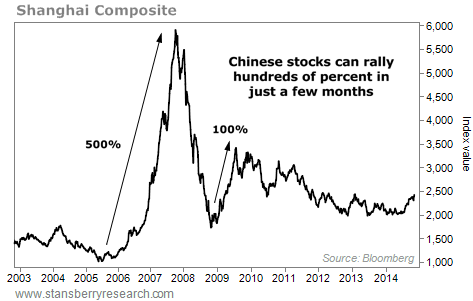 Importantly, Chinese stocks today are just as cheap as they were when they started their last two triple-digit runs in 2006 and 2009. We are at the same starting point in value today as we were back then. You can see it clearly in this chart: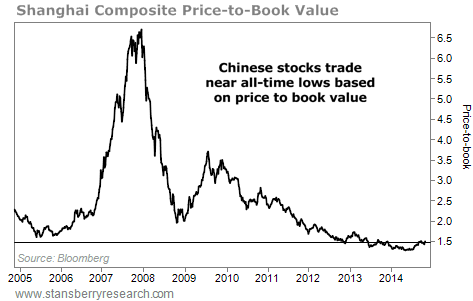 So China is cheap.
It is hated, too… Investors have been avoiding it in 2014. Ah… but that is what I like to see!
Meanwhile, Chinese stocks are now in a definite uptrend. They're trying to break out to multiyear highs. Take a look: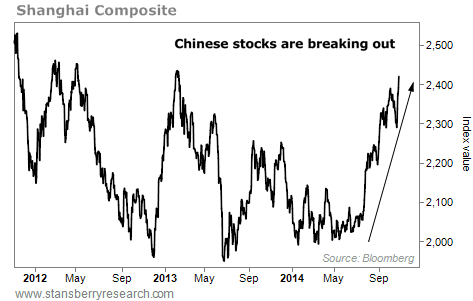 This is the ideal setup for big gains…
Chinese stocks are 1) cheap, 2) hated, and 3) in an uptrend. This is exactly what I want to see in an investment.
So how can you trade it?
I am talking about local Chinese stocks here – commonly known as "A" shares. These stocks are different than what you get in a typical U.S.-traded China fund.
There is one major exchange-traded fund (ETF) that holds Chinese "A" shares… It was created by Deutsche Bank. Its symbol is: ASHR.
If you asked me, "Which market has the best chance to double within the next 24 months?"… my answer would be "Chinese A-shares."
The best way for an American to make this trade is through ASHR.
It's one of my favorite opportunities on the planet… however, I urge you to use some form of trailing stop to protect your downside risk. Chinese A-shares will be volatile!
In my opinion, they're volatile, but worth it! You have the good possibility of triple-digit gains within 24 months. It has happened twice in the last decade, and today's setup is the same. So take advantage it!
To learn more about ASHR, visit the website fro the ETF here.
Good investing,
Steve
[ad#stansberry-ps]
Source: Daily Wealth