[ad#Google Adsense 336×280-IA]If you've been waiting to get aggressive with gold stocks, you might soon get your chance…
Gold stocks have been crushed recently.
The benchmark Market Vectors Gold Miners Fund (GDX) has fallen 23% in the past five weeks.
In short, the gold sector is violently oversold.
And with the U.S. dollar looking like it has topped, we'll likely see a violent rally in gold stocks soon.
But it's not time to go "all in" just yet…
Take a look at this chart of GDX…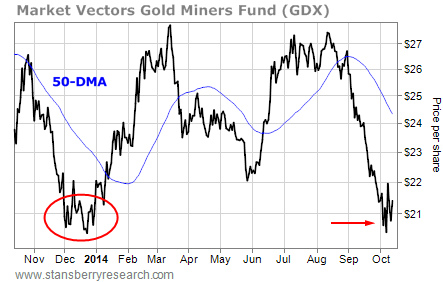 Today's setup is similar to what we saw in December. GDX suffered a huge decline in November. In early December, the stock was 14% below its 50-day moving average (DMA) – a historically extreme move.
GDX rarely strays more than 10% from its 50-DMA before reversing and then coming back toward its 50-DMA. Extreme moves like this often mark significant bottoms. December was the most oversold GDX had been since the gold sector bottomed in 2008.
But bottoming out is a process, not a one-day event.
After falling 14% below its 50-DMA, GDX bounced hard. But it couldn't hold onto the gains. The fund came back down, retested the low, and consolidated for most of the month before exploding more than 30% higher from January to mid-March.
It looks like the same pattern is playing out today.
Early last week, GDX dropped 16% below its 50-DMA. It's more oversold than it was last December. It bounced more than 7% off the bottom early last week. But that rally failed – just like the first bounce failed last December.
So if the pattern continues, GDX may need to retest the low and consolidate for a few weeks before it's ready to start a new rally phase.
I don't see a lot more downside from here for most gold stocks. So those looking to own gold stocks in the long term can consider buying here.
But traders looking for an explosive rally – similar to what we saw last January – may need to be patient for a few more weeks before aggressively buying the sector.
Best regards and good trading,
Jeff Clark
[ad#stansberry-ps]
Source: Growth Stock Wire