One year ago, I declared that Chevron's (NYSE: CVX) dividend safety rating was an "A." Although I qualified it by saying that, due to the company's likely temporary negative free cash flow, it was on watch.
Wealthy Retirement reader Lois asked me to take another look, so let's see what's happened over the past year.
Once again, free cash flow is negative. It has been for the past three quarters.
[ad#Google Adsense 336×280-IA]The company generates tons of cash flow from operations, but because its capital expenditures are high, free cash flow has been in the red by $2.2 billion over the past nine months.
Free cash flow is calculated by subtracting capital expenditures from cash flow from operations.
Free Cash Flow Issues
Chevron has posted negative free cash flow figures in six out of the past seven quarters. This concerns me.
When I wrote the original article in October of last year, Wall Street analysts projected Chevron's free cash flow would come in at $3.5 billion. They were off by a bit as the actual number was negative $3 billion.
Going forward, the consensus forecast is for negative $472 million in free cash flow this year, before turning positive in 2015. Next year, the forecast is for $3.8 billion in free cash flow, nearly doubling in 2016 to $7.2 billion and then nearly doubling again to $13.7 billion in 2017 and surging to over $20 billion in 2018.
In the past four quarters, Chevron has paid out $7.7 billion in dividends, so not until 2017 will its free cash flow cover the current dividend payments.
Twenty-Seven Years and Counting
1987 was a good year. It was the year I started dating my wife, the all-time great movie The Princess Bride was released and, despite a stock market crash on October 19, the market actually finished the year higher than it began.
It was also the year that Chevron began raising its dividend. Since then, the dividend has been lifted every year. The dividend increased by 7% in May. Over the past 10 years, the compound annual growth rate has been 9%.
That's an impressive track record and shows a clear commitment to returning more capital to shareholders over the years.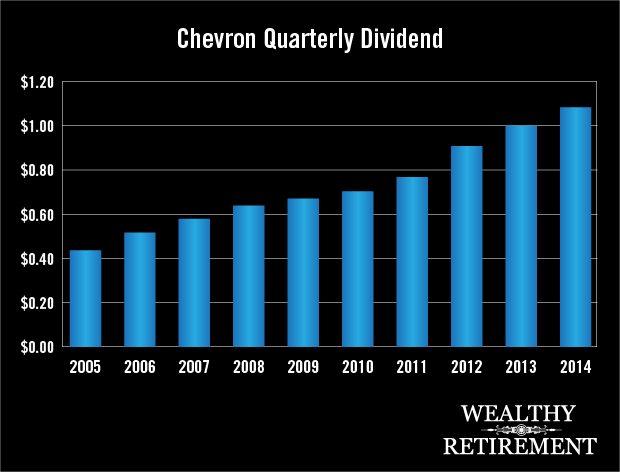 That track record gives me a lot of confidence that the dividend is stable. However, last time I did say that if the company did not generate free cash flow in the next quarter, I'd likely drop my rating.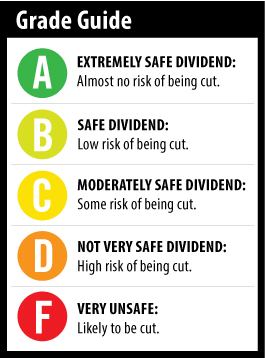 Not only did the company fail to generate free cash flow, but it also probably won't for all of 2014.
I don't expect Chevron to cut the dividend anytime soon, but I think it's a little less secure than it was a year ago.
If the company again fails to generate free cash flow next year, the dividend may become an issue.
I believe the risk of a dividend cut is quite low, but it is no longer at the point where I believe there is virtually no risk.
Therefore, I'm downgrading Chevron's dividend safety rating one level.
Dividend Safety Rating: B
— Marc Lichtenfeld
[ad#DTA-10%]
Source: Wealthy Retirement