The U.S. dollar is killing natural resources.
The dollar has rallied nearly 8% since July… and bullish traders are bidding it higher.
Meanwhile, natural resources denominated in U.S. dollars have fallen.
Precious metals, oil, and many agricultural commodities are all down double digits since July.
[ad#Google Adsense 336×280-IA]In short, the strength of the dollar is demolishing the natural resources sector.
And that's great news for investors. Here's why…
As regular Growth Stock Wire readers know, many natural resources often trade opposite the dollar.
So these assets fall when the dollar rallies… and rally when the dollar falls.
That's exactly what we've seen in the natural resources space since July.
You can see this in the chart below…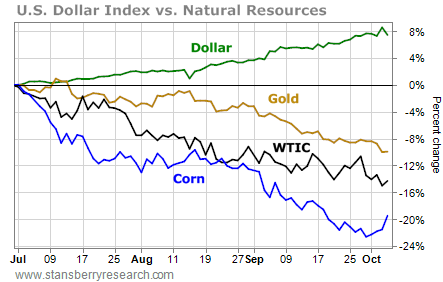 Gold is down around 10%… West Texas Intermediate Crude (WTIC) oil is down around 15%… and corn is down around 20% since July.
Natural resource related stocks are also down…
The big gold miner fund GDX is down more than 20% since July… Large oil giants like ConocoPhillips (COP) and Chevron (CVX) are down an average of 11%. Investment firms like Apollo Global Management (APO) that have a large portion of the money they manage in the natural resources sector are also down. Shares of APO have fallen around 15% since July.
But the weakness in this sector won't last.
As we've shown you in these pages before, natural resources are tremendously cyclical. They go through huge boom and bust cycles. Most natural resources have been in "bust" mode the past few months.
But based on history, the U.S. dollar could jump-start the next "boom."
As my colleague Jeff Clark showed you last week, the dollar IS going to break down.
The dollar is now trading at the highest level of "excessive optimism" ever recorded (the data goes back to late 1999) at top-notch analytics site SentimenTrader.com. The dollar could still strengthen from these levels, but eventually, the move higher HAS to end.
We've seen bullish sentiment in the dollar like this nine times since 2009. It led to a fall in the dollar within the next four months every time but one.
For example, the last time sentiment was almost this bullish on the dollar was in July 2013… the dollar went on to fall more than 5% in just three months. Meanwhile, natural resources moved higher. The price of gold moved up 7% and silver went up nearly 15%.
It's possible we'll see something similar this time around. And today's depressed levels are about to give investors a great opportunity to get in.
I've already shown you several beaten-down natural resource investments over the past few weeks to add to your "watch list"…
Last month, I told you about the Teucrium Commodity Trust Corn Fund (CORN), an exchange-traded fund designed to track the price of corn.
And last week, I told you to add offshore oil drilling company Transocean (RIG) to your watch list.
Today, I'm sharing another "watch list" investment… closed-end fund Petroleum & Resources Corporation (PEO). You can learn more about closed-end funds here.
PEO holds more than $750 million worth of shares of the largest, most stable energy companies in the world. Oil giants ExxonMobil (XOM), Chevron, and Schlumberger (SLB)make up more than 30% of its holdings.
PEO yields a big 6.7% today from the income and capital gains it earns from its holdings. And it's committed to keeping its yield above 6%.
And more importantly, it is currently trading at a more than 15% discount to the value of the shares it holds.
You see, closed-end funds have a fixed number of shares. If lots of folks want to own those shares, they'll trade at a premium to the value of the fund's assets. If fewer people are interested in owning them, the shares will trade at a discount. And with oil prices down today, many investors aren't interested… they have fled oil stocks and funds – including PEO. That means you have the chance to buy industry leaders on sale today.
When oil eventually rallies, folks will look to get back into PEO – pushing the share price up.
But just like with Transocean, shares haven't bottomed yet. (CORN has moved higher recently because the harvest is behind schedule due to wet fields in the Midwest. But we can't confirm we've seen the bottom. With such a large crop this year, prices could drop again. We'll keep you updated on the situation.) So add PEO to your watch list and wait for an uptrend before investing.
We're about to have a great opportunity to buy these investments before they rally. Don't miss it.
Good investing,
Brian Weepie
Sponsored Link: If you're looking to make money in the natural resources sector, now is a great time to subscribe to Matt Badiali's S&A Resource Report. Matt just published a series of special reports detailing the best ways to generate reliable income and earn big capital gains on the most important trend in America today – the shale energy boom. You can gain immediate access to all of Matt's research with a risk-free trial subscription to the S&A Resource Report. Click here to learn more.
Source: Growth Stock Wire